Fire & Smoke Damage
The fire damage restoration Connecticut crew with 911 Restoration Connecticut is more than qualified to handle even the most severe fire,smoke and water damage, as well is the water damage team at removing all the water left behind after the fire is extinguished.
After experiencing fire damage, the only thing any homeowner wants is to get their home back to normal. This means getting rid of any trace of ash, smoke and fire retardant.
Backed by 35 years of experience, the fire damage Connecticut pros are fully equipped with the most advanced fire and smoke removal technology.
The entire operation is licensed, bonded and insured, making it a company that you can rely on in even the most severe fire situations.
While the fire damage restoration Connecticut professionals there to help with the fire remediation, the puff back cleanup Fairfield techs are experts in smoke removal. Both crews play integral parts in home restoration.
When it comes to fire, time is of the essence. That is why the we are standing by 24/7/365, and vow to be at your home within 45 minutes of your call.
Safeguard Your Home From A Fire Damage Incident
The fire damage restoration Connecticut technicians want to help keep you and your family safe. Below are some helpful tips that everyone can follow in order to maintain a fire hazard free home.
Clean up any trash or junk that is just lying around. Pay special attention to the garage and other storage spaces where old clothes, cardboard boxes, newspapers and other flammable materials are kept.

Double check that candles and incense are put out before leaving the home, going to bed or leaving the room for an extended period of time. It only takes a moment for a gust of wind to knock over a candle or cause a spark to land on a flammable surface.

Make sure your furniture is fireproofed. This sounds harder than it actually is. If you are buying a new piece of furniture then you can ask the store to coat it in fireproofing spray. You can also buy the coating on your own and apply it to existing furniture.

Keep your furnace clean. Since the whole point of a furnace is to create heat, it automatically becomes a fire hazard. Replacing the filter regularly can prevent overheating, which in turn may cause a major fire.

Check the lint trap in your dryer. It is easy to forget that the lint trap can get full, which can actually be a very big fire hazard. Clogging of the lint trap can cause the dryer to overheat. Avoid this situation by simply cleaning the trap after every load of laundry.
The fire damage removal Connecticut staff promises to always put the customer first, and branch owner Eli will do everything he can to make sure you know that.
Smoke and Ash Cleanup Is Our Fire Damage Forte
911 Restoration Connecticut values professionalism, and even though their expertise is fire damage removal, they care even more about making you feel safe and secure after such an incident.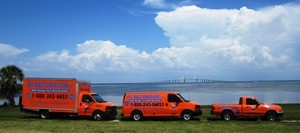 Smoke and Ash from a fire in one room can travel easily to other rooms of the property using the ventilation system.
This is one of the many reasons why your fire damage restoration incident requires professionals to get the job done right.
Please call us today to get same day service and start the fire damage removal process.
Eli and whole 911 Restoration Connecticut fire and smoke damage team are looking forward to giving you and your family the fresh start you deserve.