Different Types of Floods in Connecticut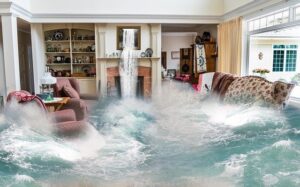 The recent rise in weather events across Connecticut has cast a concerning spotlight on the serious problem of floods. The rampant injuries and damage to homes and businesses is devastating. Many residents who are new to floods are often unprepared for these situations and don't have a backup plan.
Given the reality of global warming, these flooding events will continue to rise… unless we do something about them. But first, it helps to familiarize yourself with the different types of floods that may continue across Connecticut.
Flash Flood
Flash flooding is caused due to rainstorms. They occur without a warning, and often, a few minutes after a rainfall. A dam break can also cause flash floods, but these events are few and far between. As the name suggests, 'flash' flooding occurs so quickly that they catch residents off guard. Things can become increasingly dangerous if they come in contact with fast-moving water while traveling.
The water can make its way into homes and businesses, or cause devastating damage to their property without any warning.
Flash floods can occur just about anywhere. Flash-prone areas also tend to be situated just a few hundred years from streams and creeks. These areas can become prone to raging torrents that can give rise to flash floods on highway underpasses and city streets.
River Flood (also known as Fluvial Floods and Riverine Flooding)
River floods occur when rainfall pours over an extended period of time. This can overfill a river past its capacity and lead the water into urban centers.
In the same vein, a high supply of water can overwhelm a river and create the perfect conditions for a flood, big or small. Another reason for river floods is the accumulation of water due to meltwater from nearby ice.
The water damage from river floods can be extensive because the overflow affects areas downstream, which can cause dams to break and swamp surrounding areas. Weather experts determine the probability of river floods by considering precipitation of the area (past and current), forecasted precipitation, current water levels of the river, and terrain conditions.
The intensity of a river flood is dependent on the volume and duration of rainfall in the river. Another aspect is the terrain surrounding the river system. Flatter areas have floodwater that rises more slowly but mountainous areas have more instantaneous and severe floods. The damage can cause the debris to flow in the direction of the water – and a capacity for unprecedented destruction.
Coastal Flood
Coastal flood refers to areas that are temporarily inundated by water due to waves, storms, heavy rainfall, and tides. The major cause of coastal floods is a storm surge leading to lower areas becoming submerged under seawater.
Water in coastal floods is often contaminated with sewerage water that can lead to various diseases, mental health problems, and the buildup of mold damage. It is important to call a water damage restoration expert in Connecticut as soon as the flood has stopped.
Pluvial Flooding
Pluvial floods occur due to extreme rainfall events that inundate areas that are independent of a nearby water body. The intensity of the rainfall can also saturate the sewage and drainage system. In any case, rain is the main source of the flood, not water from a nearby river, but water that is making its way to the river.
Sewage Flooding
Sewage flooding is as bad as it sounds. Besides grossing you out, it can make occupants extremely sick. Don't come in contact with this water. Sewage water contains hazardous waste, fecal matter, and sharp objects. When all this material is mixed together, it becomes even more dangerous.
Sewage floods commonly occur due to heavy rainfall that overwhelms nearby treatment plants and sewage systems, releasing massive amounts of sewage into water bodies.
A rare cause for sewage floods is the collapse of municipal pipes that cause wastewater to flood out into the streets and into homes. Preventing this from occurring requires the use of a comprehensive drainage system.
A swift response from water damage restoration experts is required. It also helps if the individuals are well versed in sanitization services in Connecticut.
What to do if you encounter a flood? Don't panic, call for help
Floods are dangerous. Remember, it takes only about six inches of water to knock an adult off their feet and one foot of water to float a car away. Even a small amount of floodwater can have a devastating effect on the surrounding area, especially if there are downed electric poles nearby. If you encounter a flood – turn around and move away from the direction of the water.
Flood damage is often characterized as Category 3 water because it contains all kinds of toxic contaminants that should be handled by a skilled expert. It is important to call experts as soon as possible to minimize the damage done to the property.
Here are a few tips to contain the damage from floodwater:
Try to move your furniture and valuables several inches off the ground
Make sure everyone leaves the property and finds a safe place to stay, especially young children
Turn off the electricity, water, and gas supplies (only if it is safe)
If your home or business got flooded, call your nearest 911 Restoration company in Connecticut. Our water damage restoration specialists offer a full range of restoration services for water, fire, and mold throughout Connecticut. Visit our website for more information.