Sewage Backup Cleanup in Connecticut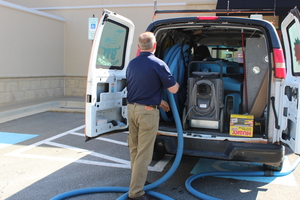 The average rainfall continues to rise in Connecticut, and with it comes the increased risk of sewage backups in local properties. Fortunately for property owners in Bridgeport, New Haven, and the surrounding area, emergency help is only a phone call away.
Even if you wake in the middle of the night to a horrible stench and discover sewage backing up into your basement, you can still reach out to 911 restoration and get a human being on the phone. Our lines are open 24/7/365, because we know that when raw sewage enters your home or business, you don't have time to waste.
With 911 Restoration, you can count on a 45-minute guaranteed arrival time. In fact, you could pick up the phone right now and have an IICRC certified sewage cleanup technician at your door within the hour. Call us at (203) 208-7101 and allow us to offer you a free visual inspection.

A property crisis as unpleasant as a sewage backup can make you feel helpless, but a reliable sewage water cleanup staff puts you back in control. There will be nothing left to worry about after 911 Restoration techs leave your home. Your space will be dry and sanitized. All damages will be repaired. You'll even have peace of mind knowing your property has been inspected for any mold removal ct resulting from sewage water damage.
Whether your toilet has backed up or Connecticut's year-round wet season has forced black water into your home, you can count on 911 Restoration to put things right again.
Call our friendly sewage cleanup staff today. Relief is closer than you think.
Repairing Toilet Water Damage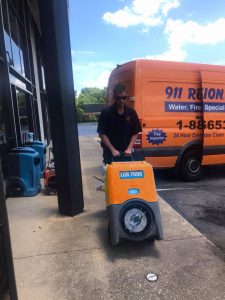 Overflow from your toilet can fall into one of two categories: gray water or black water. Neither is ideal, but black water is decidedly worse. Black water typically contains feces or sewage, and with those qualities come a variety of hazardous microorganisms including bacteria, viruses, and parasites.
That's why toilet and sewage water cleanup requires an IICRC certified staff. A sewage backup doesn't only damage your home; it poses a threat to your health. You need qualified sewage cleanup experts to remove the sewage safely and sanitize the area properly.
You also save yourself time and money when you choose a sewage water cleanup company that includes damage repair in their services. The staff at 911 Restoration of Connecticut know how to inspect for destruction in the structures of your home or business. They recognize wood that has been weakened or compromised by toilet water and carpet that has been contaminated by sewage. They inspect sheetrock and drywall. They come armed with the tools and knowledge to repair whatever damages they discover. In the end, you're left with a property that's in even better shape than it was before the sewage backup ever occurred.
Though the most obvious disadvantages of a backup are immediately easy to pinpoint, the truth is that sewage 911 water restoration often goes deeper than you realize.
If your property has been flooded with sewage water, contact 911 Restoration for comprehensive repair at (203) 208-7101.
Beyond Sewage Removal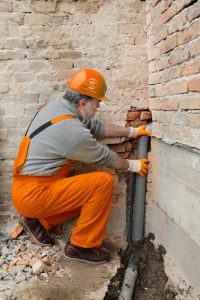 What many people don't realize is that a sewage water backup can lead to complex and lasting damage if great care is not taken to fully restore the area immediately after the backup occurs.
One common problem following a sewage backup is the cultivation of mold. Once a surface has been exposed to moisture, mold spores only need 24-48 hours to establish a thriving colony. Many people correctly worry about mold growth in their carpets and on sheetrock. A lesser known risk, however, lies in concrete floors.
If your sewage backup occurred in your basement, you can count on the sewage cleanup team at 911 Restoration to prevent future mold growth by fully drying and dehumidifying your concrete floor. Concrete is more sponge-like than we tend to think, soaking up moisture and holding it. Then that dampness rises to the surface and creates the ideal breeding ground for mold.
Your sewage cleanup specialists don't just take measures to prevent growth. They also complete restoration by offering a free visual mold inspection for property owners. They look over the entire affected area to ensure no colonies have begun to form. If they do find contamination, they conduct total mold remediation, eliminating the problem altogether.
The staff at 911 Restoration truly does see to your every need, from sewage removal to mold sampling. They even assist with insurance. A knowledgeable staff member will gladly walk you through your insurance coverage and file your claim for you, so you can be sure you get the exact coverage you are entitled to.
A sewage water backup is a property owner's nightmare, but 911 Restoration promises to leave your home or business feeling like a dream. Call us today and let our sewage cleanup experts give you a Fresh Start. Call us at (203) 208-7101 and see how we can help.

Serving the communities of Abington, Ansonia, Ashford, Beacon Falls, Berlin, Bethany, Bethel, Bloomfield, Branford, Bridgeport, Bristol, Brookfield, Cheshire, Clinton, Cos Cob, Connecticut, Danbury,Darien, Derby, Durham, East Glastonbury, East Haven, East Hartford, Easton, Enfield, Fairfield, Farmington, Georgetown, Glastonbury, Greenwich, Groton, Guilford, Hamden, Hartford, Hawleyville, Madison, Manchester, Meriden, Middlebury, Middlefield, Middletown, Milford, Monroe, Montville, Naugatuck, New Britain, New Canaan, New Fairfield, New Hartford, New Haven, New London, New Milford, Newtown, North Branford, Northford, North Haven, Norwalk, Norwich, Old Greenwich, Orange, Oxford, Plainville, Plymouth, Prospect, Redding, Redding Center, Ridgefield, Riverside, Rocky Hill, Sandy Hook, Shelton, Sherman, Simsbury, Southbury, Southington, Southport, South Windsor, Stamford, Stratford, Terryville, Thomaston, Torrington, Trumbull, Vernon, Rockville, Wallingford, Waterbury, Waterford, Watertown, West Hartford, West Haven, Weston, Westport, Wethersfield, Wilton, Winchester, Windham, Windsor, Wolcott, Woodbridge, Woodbury and surrounding areas.