Mold Removal Bridgeport
When you notice a musty smell in your home or dark patches under your sink, you can call the mold removal Bridgeport specialists at 911 Restoration of Connecticut and we will determine if you have a fungus infestation on your hands.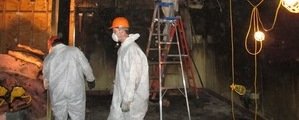 Our phone lines are available 24/7/365, making it possible for you to schedule an appointment with us right away.
We want to get our mold removal Bridgeport pros to your home quickly in order to prevent any permanent damage to your home's structure and your health. Once we get to your household, we will immediately begin the following services:
Mold testing

Water damage restoration

Moisture extraction

Vacuuming

Thorough drying techniques

Sanitization

Cleanup services

Spore removal

Drywall replacement

Vapor Barriers

Air filters and purifiers
Water cleanup is an incredibly important part of mold removal, since all mold spores basically need to grow is water and time. In as short as 24 hours spores can fully develop into an infestation, which is why homeowners should seek out the help of our mold removal Bridgeport crew as soon as you notice signs of mold or invading moisture in your household.
Call our mold remediation unit as soon as you notice any signs of fungus and we will get the cleanup process started with a free visual mold inspection today!
Proper Mold Remediation Is Necessary To The Health Of Your Family
Even though it may not look good to have mold growing on your ceiling or on your walls, our mold removal Bridgeport  techs wants you to know that there are other, more toxic issues, that may be developing out of sight.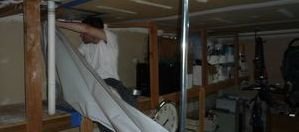 If you can see a little mold in your household, then there is probably more fungus living in more hidden spots, such as your crawlspace, attic, behind wallpaper, under the floorboards and inside the walls.
Our mold removal Bridgeport operation knows exactly what to look for and where to look for it when they are called to a fungus eradication job, and you can trust that we will always do a thorough job.
Not only is this attention to detail important to your home's structure, but it is crucial in keeping the health of your family in tact. Inhaling mold particles can cause allergy-like symptoms and breathing issues, all which can be harmful to your health.
Call our mold removal Bridgeport experts today and we will do whatever it takes to keep your home, and your family, safe during the mold mitigation process.
Our Mold Removal Crew Will Take Care of You Throughout The Whole Ordeal
It can be confusing to figure out what your next step should be, especially if this is the first time you have learned that mold is invading your family home.
Our mold removal Bridgeport professionals want homeowners to know that all they have to do is call our office and we will take care of everything from that point forward.
From scheduling your appointment with our team to assisting you with the financial aspect of the job, we will be there by your side, helping you understand all aspects of the job.
Providing you with excellent customer service is a major priority to our mold removal Bridgeport team and we hope to prove just how dedicated we are to restoring your home, and your life.
Call our mold removal Bridgeport staff at 911 Restoration of Connecticut today and we will give your home the fresh start it deserves.