Water Damage in Waterbury
If you live in an area like Waterbury, with high amounts of rainfall and humidity, then at some point you are probably going to have to deal with water damage. Waterbury receives rain and snow levels that are way above the national average, translating to mean that almost half the year feels some type of precipitation. With moisture levels as high as these, it is crucial for property owners to have their homes and businesses prepped for water damage all year round. However, for those unavoidable situations, the technicians at 911 Restoration Connecticut are available 24/7/365 to help, because you never know when water damage is going to strike, and we want to be there for you the moment it does. Since our office is continuously open, technicians are always ready to assist you, allowing experts to arrive within 45 minutes of receiving your call for emergency water damage restoration. Customers can expect to receive assistance from an IICRC certified team that is licensed, bonded, and insured for your protection.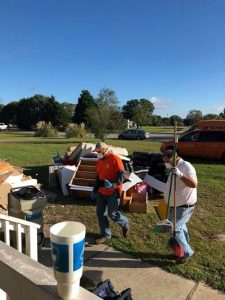 Due to our decades of experience, 911 Restoration of Connecticut knows how to administer flood cleanup for pipe bursts, roof leaks, and basement floods, as well as implemented any other water damage restoration you may need. 
The extreme weather conditions can cause problems in the property that you weren't aware of before, such as cracks in the foundation, where water can leak inside and create a basement flood or some other disaster.
Technicians work with the most high-tech water removal equipment in the industry to completely dry and clean your property, making sure that no mold grows in the dampened area.
When your home or business is flooded by gallons of water, it is essential that technicians begin the water mitigation process immediately. Emergency flood cleanup services will preserve the structure of the property itself, as well as lessen your losses overall.
Call 911 Restoration of Connecticut when you need water damage restoration in Waterbury and technicians will start the process by giving the property owner a free visual inspection.
Rainstorms Aren't The Only Cause Of Water Damage In Waterbury
Even during the driest times of the year, homes and businesses in Waterbury are susceptible to becoming impacted by water damage. You would be surprised how many times a toilet or sink backup causes water to flood the bathroom and kitchen.
Technicians know that when water finds its way into your property's interior, it can be very destructive to both the structure of the household and all the items inside because it can cause structural damage and mold growth.
The longer the moisture sits, the more damage sets in, which is why you should call 911 Restoration of Connecticut the moment an incident like a roof leak or basement flood occurs. 
Once the techs can get on the scene and check out the extent of the damage, they will get started with water damage restoration procedures that involve the use of high-tech water extraction and drying equipment.
The professionals use professionals grade technology that allows our teams to extract water and dry the area quickly. By using air movers and dehumidifiers, your property will get to a state too dry to allow mold to grow freely.
If your property is experiencing a water leak in the basement or any other water damage situation, don't hesitate to contact 911 Restoration of Connecticut to get the peace of mind you deserve today!
We Administer Water Mitigation With Unmatched Professionalism
The customer is the first priority, and 911 Restoration of Connecticut does everything it can to prove that to the Waterbury community.
Along with commercial and residential water damage cleaning services, the flood cleanup company always offers competitive prices and makes an effort to work with all insurance companies.
To minimize the workload put on your by the insurance provider, the staff members will happily take over the entire process by first giving you a free insurance consultation.
Customers can depend on our staff to talk to insurance representatives and complete all the necessary paperwork, even submitting your claim for you if need be.
No matter what sort of leak or flooding event takes place in your property, technicians will be there to walk you through every step and get your home or business back to a clean, dry state.
Even if your situation takes place in the middle of the night, or on a holiday weekend, technicians make sure always to put the customer and their needs first, so you have nothing to worry about. 
If you find yourself in need of flood cleanup in Waterbury, call 911 Restoration of Connecticut today and let us show you how water damage restoration can be the first step towards a Fresh Start!