Water Damage in Stamford
Living in an area like Stamford requires attention to detail, unlike the typical property owner. The weather patterns are severe in the winter and summer, causing rain and snow that can create significant water damage. It is crucial that you pay attention to signs of leakage and flooding to prevent structural issues and mold. The technicians at 911 Restoration Connecticut wants to assure the Stamford community that they are available 24/7/365 to provide them with water damage restoration services, no matter how big the job may be. Repair techs offer 24-hour home flood cleaning services and guarantee to respond within 45 minutes. With such a fast reaction time, customers can expect the water damage to be repaired almost as soon as it had been discovered. The entire flood cleanup company is IICRC certified and licensed, bonded, and insured for the protection of their customers.
Property owners may feel lost after experiencing unwanted water in their home, which is why 911 Restoration of Connecticut is standing by to lead customers through the water cleanup services by supporting them.
911 Restoration of Connecticut believes in positive professionalism, so when technicians show up, they provide you with a free estimate for the water damage restoration. Understanding the truth will allow the healing process to begin.
Water damage can come in a variety of forms, from pipe bursts to water heater malfunctions, and all the leaks and floods in between, which is why the repair techs are experts in every aspect of the flood cleanup, from projects big to small.
There is nothing that 911 Restoration of Connecticut can't handle, and the repair techs always make sure to put the customer first with every project that they take on. Quality customer service gives people back their peace of mind when they need it the most, and that makes it easier for us to provide the best water removal service on every job.
Technicians want you to feel confident that no matter how severe the water damage may be, you can rely on 911 Restoration of Connecticut to assist you with leak and flood cleanup in Stamford. 
If you are in need in of the best recovery services in Stamford, then call 911 Restoration of Connecticut, and we can get your property looking better than new today!
Professional Water Removal Will Prevent Mold And Structural Damages
With high winds, constant storms, and heavy snowpack, it is only a matter of time until some moisture makes it inside your home or business, the one place that should always stay dry.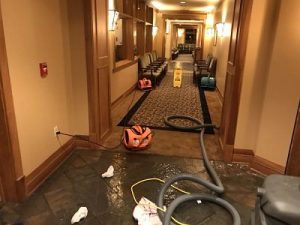 Take this true story from a customer in Stamford as an example. During the winter of 2014, she noticed a roof leak that she ignored for quite some time. Then, after an intense snowstorm, she heard a loud snap come up from her attic.
What had happened was continuous snowpack was allowing melted snow into the home, where it began festering mold. That resulted in a weakening in her support from her attic subfloor.
After enough water accumulated, the structure collapsed, swamping the room below in moldy debris and water. Fortunately, 911 Restoration of Connecticut responded quickly and provided same-day restoration services.
The water damage restoration process began with setting up dehumidifiers and blowers from the affected room to the attic above. These tools are only the most efficient under the authority of our skilled technicians. Moreover, repair techs are knowledgeable enough to have earned the title of an all-in-one team, as they were also able to decontaminate her home from mold successfully.
Technicians patched up her roof and the sealant, thus providing the customers with peace of mind for years to come. The repair techs want to make you feel this calm and secure when they are on the job. So, call 911 Restoration of Connecticut when you notice water stains, leaks, and mold spores, and a team that cares and understands your needs will help give your property a full recovery today!
The Flood Cleanup Company That Can Handle It All
The experts here at 911 Restoration of Connecticut would like to let you know that we are here for you when you need us, from explaining the water damage restoration to giving you a free insurance consultation.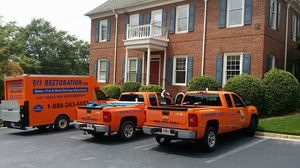 Part of bringing stability back into your life means all your bases should be covered, which we do.
If you have questions regarding the basement water cleanup cost or need help figuring out your insurance policy, you can count on 911 Restoration of Connecticut.
Staff members know precisely what information your insurance provider needs to get you the most out of your policy, and they will go over your insurance policy with you to determine the coverages you are entitled to receive.
To help speed the insurance process along, technicians will provide professional pack-out and itemization services, so you know your provider is getting the information they need to provide the appropriate financial aid.
On top of providing insurance assistance, technicians guarantee to offer the most affordably priced services in the industry, while still providing high-quality care. Technicians take photos and use the most accurate measures to submit a detailed report, which cannot be denied. 
Our customers matter to us, and that is something that the other water damage restoration companies cannot claim. So, when you need help from a restoration company that you can depend on, call 911 Restoration of Connecticut today for the comprehensive water mitigation services you can trust.