Water Damage and Mold Removal in New Haven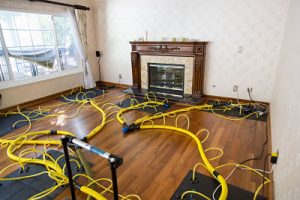 If you need mold remediation or emergency flood cleanup in New Haven or the surrounding area, you've got the best resource right at your fingertips. Our water damage restoration specialists are IICRC certified in all aspects of property restoration. They're prepared to not only eliminate your problem, but also provide you and your property with a Fresh Start. These experts handle everything, including water and sewage removal, structural drying, damage repairs, mold inspection, and mold remediation. And when a pipe burst, flooded basement, or any other disaster comes out of nowhere, they're at your door in less than an hour.
It's true. We guarantee an arrival time of 45 minutes or less at any hour of the day or night. We understand that you can't schedule an unexpected pipe burst for business hours, so we don't make you wait until business hours to get relief.
Your peace of mind is our top priority. That's why all of our water damage restoration experts train diligently to make sure they're up-to-date with the latest tools and techniques in property restoration and mold decontamination. Our company is licensed, bonded, and insured. We provide clear communication every step of the way, so you always know which services your flood cleanup crew is performing and why.
911 Restoration of Connecticut works with every insurance provider, so no matter what, you know your policy is good with us. A friendly water damage restoration staff member even sits down with you for a free insurance consultation. It isn't always easy to understand which aspects of flood cleanup are covered by insurance. Does your provider cover the bill for roof repair? Disinfecting the basement after house flooding? Mold removal? We have all these answers for you. You can even count on our team to handle claim filing and direct billing.
Whether it's a pipe burst, flooded basement, blizzard damage, or anything else, a water incident can feel like the end of the world. But our water damage restoration technicians are determined to turn this challenge into a Fresh Start. Call 911 Restoration of Connecticut and we'll make it happen.
Comprehensive Basement Flood Cleanup Services
There are countless reasons a property owner might need water damage restoration in New Haven. From hurricane damage to pipe bursts following freezing temperatures, the local climate can be hard on your home or business. That's why we at 911 Restoration are determined to be more than a water extraction company. Our flood cleanup experts approach every job with the goal of rebuilding your property to its best-ever condition, making it strong enough to weather the next New Haven storm.
So, what does total restoration mean in the context of water clean up service? It depends on your unique situation. Flooded basements and leaky roofs call for different services. But generally, you can expect three major steps.
First, the water damage restoration workers carry out emergency tasks to prevent avoidable damages. In other words, if water is still entering your property through a damaged roof, they make repairs immediately. Or if you have any possessions at risk of damage during flood cleanup, they pack out and store those items.
Then, they eliminate the water that already invaded your home or business. This includes sewage extraction and structural drying… whatever it takes to get every ounce of moisture off your property.
Finally, they rebuild, leaving your home or business in top condition. This phase includes structural testing, damage repairs, mold inspection, and mold remediation.
If you've had a pipe burst, property flood, or any other water disaster, don't settle for one of those other water removal companies. Choose the compassionate, comprehensive service of 911 Restoration of Connecticut.
Toxigenic Mold Remediation in New Haven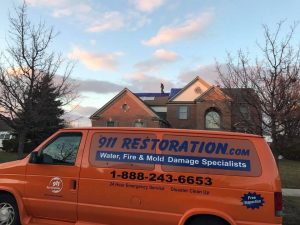 Worried you might have black mold growing in your walls?
Many property owners fear a black mold infestation. Black mold is toxigenic, which means the fungus releases mycotoxins into the air you breathe. When inhaled, these mycotoxins gather in your system and may cause a wide range of health issues, including asthma, respiratory problems, and even heart issues.
If you suspect there is black mold growing in your home or business, call 911 Restoration for a professional mold inspection. Our mold remediation specialists are relentlessly thorough when it comes to mold inspections. They understand that the longer dangerous mold lingers without mold removal, the greater threat to your health. If they confirm that there is toxigenic mold on your property, they handle mold remediation with the utmost caution. They are careful to conduct mold removal without spreading excess mycotoxins throughout your property.
We strongly advise that you do not attempt mold removal yourself. This is especially true when it comes to black mold, but it's best to turn to a certified mold remediation specialists no matter what species of fungus has invaded your property. Even the seemingly less threatening varieties often have allergenic or pathogenic properties. In other words, it is never healthy to have mold in your home, and safe mold removal is best left to professionals.
From white mold to black mold, you can always count on 911 Restoration of Connecticut for safe, effective mold decontamination. Call now and breathe easy.
Servicing Abington, Ansonia, Ashford, Beacon Falls, Berlin, Bethany, Bethel, Bloomfield, Branford, Bridgeport, Bristol, Brookfield, Cheshire, Clinton, Cos Cob, Connecticut, Danbury, Darien, Derby, Durham, East Glastonbury, East Haven, East Hartford, Easton, Enfield, Fairfield, Farmington, Georgetown, Glastonbury, Greenwich, Groton, Guilford, Hamden, Hartford, Hawleyville, Madison, Manchester, Meriden, Middlebury, Middlefield, Middletown, Milford, Monroe, Montville, Naugatuck, New Britain, New Canaan, New Fairfield, New Hartford, New Haven, New London, New Milford, Newtown, North Branford, Northford, North Haven, Norwalk, Norwich, Old Greenwich, Orange, Oxford, Plainville, Plantsville, Plymouth, Prospect, Redding, Redding Center, Ridgefield, Riverside, Rocky Hill, Sandy Hook, Shelton, Sherman, Simsbury, Southington, Southport, South Windsor, Stamford, Stratford, Terryville, Thomaston, Torrington, Trumbull, Vernon Rockville, Wallingford, Waterbury, Waterford, Watertown, West Hartford, West Haven, Weston, Westport, Wethersfield, Wilton, Winchester, Windham, Windsor, Wolcott, Woodbridge, Woodbury, and surrounding areas.