Mold Removal in East Haven
East Haven is known to experience long, humid summers that last from about May to September, giving mold ample time to sprout inside homes and businesses in the area. The high moisture content in the air mixed with the warm temperatures makes the perfect environment for mold to multiply. 911 Restoration of Connecticut understands that mold removal in East Haven needs to be conducted quickly. Otherwise, it can spread throughout the walls and ceilings, contaminating the property and your health. Technicians will get the mold cleanup process started as soon as they arrive, giving the property owner a free visual mold inspection to determine the extent of the damage. Not only will repair techs check the area for signs of mold, but they will look for instances of water damage, as well, since both issues tend to go hand-in-hand.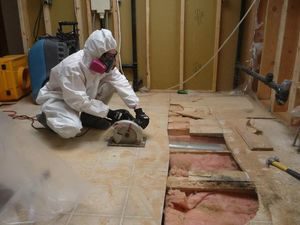 Technicians are IICRC certified to administer mold removal services in both residential and commercial properties, giving customers complete confidence in our full-service, restoration abilities.
The entire organization is also licensed, bonded, and insured for your protection because it is the priority of 911 Restoration of Connecticut to ensure the wellbeing of their customers.
Keeping you feeling safe and comfortable throughout the mold cleanup in East Haven is crucial to delivering a wholly, successfully mold remediation job. Your satisfaction is of our utmost concern, and technicians are excited to prove their dedication to their customers.
You can depend on 911 Restoration of Connecticut for quick, quality mold remediation. So, call the team that you know cares and understands your needs as a member of the East Haven community!
Basement Mold May Be Growing Right Under Your Nose
The basement and crawlspace are areas of a property that are most susceptible to becoming impacted by both mold and water damage, issues that feed into each other to create a cycle of structural problems.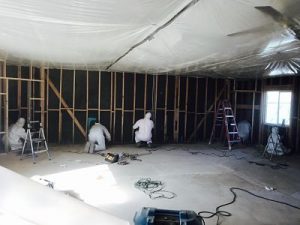 A basement flood can occur after a pipe burst, heavy storm, or even a toilet overflow, and can happen without you noticing for quite some time, especially if you have an unfinished basement.
When water seeps into this area below your home or business, it will become trapped in the dark, warm place and breed a mold colony. It only takes 24 hours for mold spores to develop into an infestation, making immediate mold remediation vital.
Technicians understand the urgency of situations involving mold and water and will arrive at your earliest convenience to begin water extraction, mold cleanup, drying, and dehumidifying services.
Getting your property as dry as possible is integral to the mold removal process because any lingering moisture can eventually trigger another infestation. By using advanced drying techniques, repair techs will turn your home or business into an inhospitable environment for mold.
Call 911 Restoration of Connecticut when you need thorough mold removal services in your home or business and their highly trained technicians will give you the peace of mind you deserve.
911 Restoration Is A Step Above Other Mold Removal Companies
Understandably, it can be challenging to decide which restoration company is the right choice for your mold situation.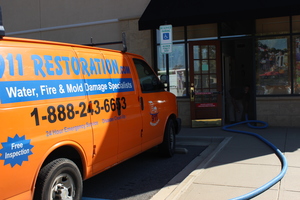 However, 911 Restoration of Connecticut makes that decision easy by offering a wide range of services that deal with every aspect of water damage and mold, making us your one-stop-shop for all your restoration needs.
If you find yourself in need of residential water damage cleaning, as well as professional mold remediation, 911 Restoration will execute a restoration strategy specific to your property, ensuring that you make a full recovery.
Along with initiating the mold cleanup, technicians want to make sure the mold discovered in your property is not a hazardous substance. To determine the mold species, they will take professional mold samples and send them to a third-party laboratory to be tested.
By understanding the type of mold living in your property, technicians and customers alike can take the appropriate measures needed to ensure the safety of you and anyone else spending time in the affected area.
Call 911 Restoration of Connecticut when you need mold decontamination and testing services, and repair techs will get you on the path to a Fresh Start today!