Mold Removal in Hamden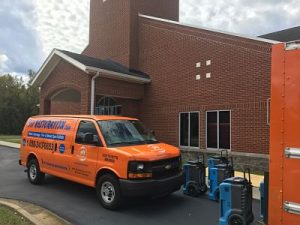 Don't put off mold remediation another second. While mold often grows in dark places where it's easy to treat as "out of sight, out of mind," an infestation is nothing less than a fungal attack. Mold eats away at the structure of your property and releases harmful particles into the air you breathe. The longer you wait on mold decontamination, the more costly your damages will be in the long run. The mold remediation technicians at 911 Restoration of Connecticut save you money with effective, comprehensive mold removal. Their ultimate goal is to give you and your property a Fresh Start. This means a mold-free property with all mold-related damages cleaned up, cleared out, or repaired.
No more unsightly stains. No more funky smell. No more thin, crumbling drywall. Your home or business will finally feel brand new again.
Between the wet weather and muggy summers, our mold cleanup technicians have extensive experience conducting mold remediation in Hamden. They've seen it all, and they can handle it all. From historic homes to huge commercial properties, they approach each new job with expertise, compassion, and transparent practices. You can count on them to uncover every growth during mold inspection, eliminate every colony safely, and leave your property in top condition.
911 Restoration of Connecticut is locally owned and operated. We are licensed, insured, and bonded. Our mold decontamination staff have all undergone extensive training and are IICRC certified. Above all, we value you as a neighbor and not just another invoice. When you call us, you can count on receiving the service and attention you deserve.
Don't wait any longer. Call 911 Restoration of Connecticut and finally reclaim the property you love.
Full-Service Mold Decontamination in Hamden
Any mold removal company you work with should have an eye on the big picture and not just the immediate problem of a single, visible mold colony. That's what you can expect from 911 Restoration of Connecticut.
Our mold decontamination crew begins each job with a comprehensive mold inspection. This ensures that every existing colony is found and eliminated. Because mold reproduces through airborne spores, a growth in plain sight could spawn a second or third colony hidden on the other side of your property. This is especially true following a water damage incident, when stored moisture creates mold-friendly pockets throughout your home or business. Without a mold inspection, any mold cleanup effort is likely to be incomplete. 
Once our mold inspection experts are satisfied that they've examined your property completely, they devise a plan for effective mold removal. In the case of dangerous infestations such as black mold, the mold cleanup process must be executed very carefully. Not only is it important that the mold removal crew get rid of the colony completely; they also must avoid the spread of mycotoxins. Our experts to use the greatest cautious when interacting with your infestation.
After mold removal, the technicians dehumidify the structure and make any repairs necessary. When all is said and done, you have a fungus-free property that's fortified against future growth.
For mold removal in Hamden or the surrounding area, trust 911 Restoration of Connecticut to do the job completely.
Can You Use Cleaning Products to Remove Mold?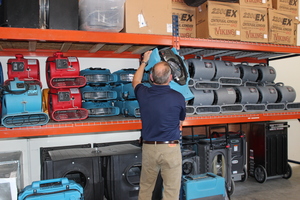 Many property owners would rather clean mold themselves to avoid mold removal costs. But what seems like a thrifty option is bound to cost you more money in the long run.
For one thing, household cleaners are rarely effective for basic mold cleanup. For another thing, there is more to eradicating mold than simply wiping it away. You need a professional mold inspection to make sure there aren't additional colonies destroying your home and health in secret. And without the assistance of a certified expert, you don't get the long-term preventative benefits of structural dehumidifying. Mold spores still have a damp place to land, and you're caught in a cycle of mold growth and mold removal.
But your immediate safety is the most important reason to call a pro for mold remediation services. When you scrub at a colony, you force the fungus to release particles into the air. If it's an allergenic or pathogenic mold, these could be harmful particles that cause asthma and similar issues. If it's toxigenic, the mold releases mycotoxins that cause toxicity in your system. Either way, your mold remediation effort puts you in direct contact with those particles.
When it comes to mold cleanup, your best option is to keep your distance and call a professional. Our team does everything they can to ensure your health and safety. Give your property and yourself the very best. Call 911 Restoration of Connecticut.
Servicing Ansonia, Beacon Falls, Berlin, Bethany, Bethel, Branford, Bridgeport, Bristol, Brookfield, Cheshire, Clinton, Cos Cob, Connecticut, Danbury, Darien, Derby, Durham, East Glastonbury, East Haven, East Hartford, Easton, Enfield, Fairfield, Farmington, Georgetown, Glastonbury, Greenwich, Groton, Guilford, Hamden, Hartford, Madison Center, Manchester, Meriden, Middlebury, Middlefield, Middletown, Milford, Monroe, Naugatuck, New Britain, New Canaan, New Fairfield, New Haven, New London, New Milford, Newtown, North Branford, Northford, North Haven, Norwalk, Norwich, Old Greenwich, Orange, Oxford, Plainville, Plantsville, Plymouth, Prospect, Redding, Ridgefield, Riverside, Shelton, Sherman, Simsbury, Southbury, Southington, Southport, South Windsor, Stamford, Stratford, Terryville, Thomaston, Torrington, Trumbull, Wallingford Center, Waterbury, West Hartford, West Haven, Weston, Westport, Wethersfield, Wilton, Windham, Windsor, Wolcott, Woodbridge, Woodbury, and surrounding areas.