Mold Removal in Hartford
Property owners in Hartford can sleep easy knowing that, despite the high moisture content in the air, they don't ever have to concern themselves with mold because 911 Restoration of Connecticut is only a phone call away. Our locally owned and operated mold mitigation company has decades of experience eradicating infestations from both residential and commercial properties. Their technicians have seen it all, from mold colonies embedded in drywall to growth caused by basement floods. When customers reach out to 911 Restoration of Connecticut, they can expect to receive mold removal and water damage repair services. Increased moisture, whether it be in the form of humidity or water damage, lead to mold problems, but our repair techs are equipped to mitigate both issues with IICRC certified restoration services.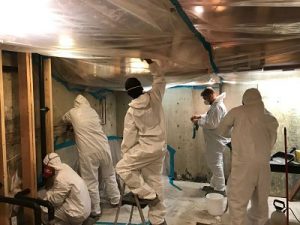 Along with our certifications, 911 Restoration of Connecticut is licensed, bonded, and insured, ensuring that all of their customers feel protected when they are on the job.
The technicians have seen everything, from mold in carpet due to water damage to fungi caused by kitchen ceiling water damage. It doesn't matter how the mold has formed; the repair techs know how to decontaminate the area thoroughly.
Through sanitization and drying efforts, repair techs will not only clean away all signs of mold, but they will remove any lingering moisture to prevent future infestations.
Customers can be sure that when they hire 911 Restoration of Connecticut, they will have someone by their side, guiding them through the entire remediation process.
So, call the highly trained technicians today and let them turn your mold problem into the Fresh Start you deserve!
Water Mitigation Can Prevent Mold Infestations
Hartford experiences a wet season that lasts roughly five months, with the rainiest part of the year occurring in May. Property owners feel the impact of this amount of precipitation and need to be prepared for both water damage and mold all year round to limit any losses.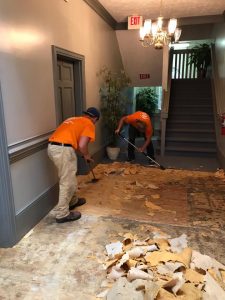 Moisture accelerates mold growth, which is why residents of Hartford need to continually need to be aware of their interior surrounds by checking for water stains, leaky pipes, and dark patches.
A mold colony can appear within 24 hours of being exposed to moisture and will begin to spread throughout walls, flooring, and the ceiling. However, by mitigating water damage as soon as it appears, technicians can stop a mold infestation from ever starting.
When you hire 911 Restoration of Connecticut, you can expect to receive comprehensive mold removal services that include drying, dehumidifying, and water damage restoration.
Our ability to perform full-service restoration work is what sets us apart from the other mold removal companies. Customers can be confident that the repair techs will eradicate every trace of mold, as well as make the space as dry as possible as to prevent future instances of mold.
Call 911 Restoration of Connecticut when you need all-encompassing, mold removal in Hartford, and their highly trained technicians will thoroughly recover your property from even the most severe mold intrusion.
Property Owners Receive Free Visual Mold Inspections
911 Restoration of Connecticut wants to make it easy for the people of Hartford to receive mold remediation services, which we do by limiting any potential obstacles.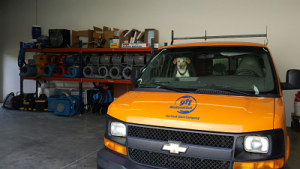 Sometimes you may be unsure about whether or not you need mold removal in your home or business and are concerned about paying for a mold inspection that proves to be unnecessary.
To dispel of any financial risks, we give property owners free visual mold inspections so technicians can determine if mold is, in fact, an issue and come up with an estimate.
During the initial surveillance, repair techs will not only look for mold but check for signs of water damage and structural issues, as well. Customers can rest assured that we are prepared to handle every aspect of the mold remediation process.
Call 911 Restoration of Connecticut when you need a mold inspection in Hartford, and you will receive help from a team that cares and understands what you need to get on the path to a Fresh Start!