Mold Removal in Meriden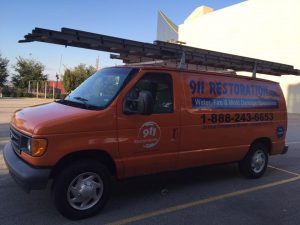 You see the dark, fuzzy splotches form on your shower ceiling. Or maybe you notice the mildew smell coming from within your walls and you think you've found the cause of those unexplained headaches. Or perhaps you've recently had a basement flood, and you know the odds are good that a new mold colony is growing down there. Whatever the reason, one thing is certain: your health and the health of your property depend on fast action. You need to call a certified mold remediation specialist right away. 
The good news is, if you need a mold inspection in Meriden or the surrounding area, 911 Restoration of Connecticut is only one call away. Our mold remediation technicians are IICRC certified and highly skilled in comprehensive mold decontamination. They don't just discover growth and remove it. They outshine all other mold removal companies by providing a complete recovery from contamination. This includes preventative measures to prevent future infestations as well as repairs for any material that has been destroyed by the colony.
We know how hard it can be to keep a mold-free home or business in Meriden. With hot, muggy summers and wet weather the rest of the year, property owners are constantly at odds with moisture in their home. Your dedicated mold cleanup crew sees the stress you're under, and they want to put you back in control of your property. Do you have mold in your carpet from water damage? They'll tear it out and replace it, leaving your home or business in brand new condition. Are you worried about the spread of mycotoxins during mold removal? Our mold cleanup techs use professional tools and procedures to ensure your safety during mold decontamination. Afraid the infestation will return the moment you turn your back? We provide structural dehumidifying so new mold spores can't find a damp place to land.
We know how a nasty growth makes your palace feel like a contaminated zone. But trust us: your home or business can feel like your own again. Just call 911 Restoration of Connecticut, and our compassionate technicians will take care of the rest.
Comprehensive, Reliable Mold Inspection Specialists
A thorough mold inspection is one of the most important steps in the mold cleanup process. Even if you can see a mold colony right before your eyes, you should still have a certified professional conduct a complete mold inspection.
Why?
Because mold reproduces through airborne spores. These spores can reach other areas of your home or business through air ducts or on clothing or pets. They only need a damp place to land, and then they can create a thriving colony. If you bring in a mold removal company to clean mold from your bathroom wall and only your bathroom wall, you're likely wasting money on an incomplete mold cleanup job. That colony in the bathroom may have offspring hidden in your basement, inside your kitchen walls, or in any other secret nook.
Our mold inspection professionals work diligently to uncover every trace of growth on your property. They know all the telltale signs of a hidden infestation, and they can follow the clues from a recent water damage incident to seek out fungus where it's most likely to thrive. When you call 911 Restoration for a mold inspection and mold remediation, you can feel secure that every growth is accounted for. Our mold decontamination workers leave your property truly mold free.
For peace of mind and service you can trust, call 911 Restoration of Connecticut today.
Toxigenic Mold Remediation in Meriden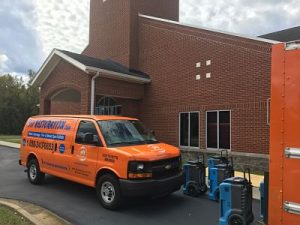 When many property owners discover a growth in their home or business, their first question is, "Is this dangerous?"
With more and more buzz about black mold and mold-related illnesses, infestations are now viewed as a potential threat and not just a nuisance. While we don't want you living in fear, we as mold decontamination specialists are happy to see more property owners take mold seriously. Putting off mold remediation means allowing toxigenic mold to release more mycotoxins into the air you breathe. Mycotoxins then gather in your system and create a state of toxicity. While the resulting health damages vary, they can include everything from heightened allergies to heart issues.
That's the bad news. The good news is that our mold cleanup experts have been highly trained to deal with toxigenic mold safely and effectively. They conduct mold removal with minimal disruption to the colony, which means minimal spread of mycotoxins. Then, once mold cleanup is complete, they dehumidify the structure itself. This procedure removes all moisture from the area where mold grew, making it nearly impossible for the infestation to return any time soon.
Before leaving your property, the mold removal technicians test the structure for damage or weakness. If they discover any compromised structures or materials, they handle repairs themselves. That way, you can truly put this nasty infestation in your past.
At 911 Restoration of Connecticut, we don't just provide mold removal in Meriden; we provide new beginnings throughout the community. Call today for a Fresh Start.
Servicing Ansonia, Beacon Falls, Berlin, Bethany, Bethel, Branford, Bridgeport, Bristol, Brookfield, Cheshire, Clinton, Cos Cob, Connecticut, Danbury, Darien, Derby, Durham, East Glastonbury, East Haven, East Hartford, Easton, Enfield, Fairfield, Farmington, Georgetown, Glastonbury, Greenwich, Groton, Guilford, Hamden, Hartford, Madison Center, Manchester, Meriden, Middlebury, Middlefield, Middletown, Milford, Monroe, Naugatuck, New Britain, New Canaan, New Fairfield, New Haven, New London, New Milford, Newtown, North Branford, Northford, North Haven, Norwalk, Norwich, Old Greenwich, Orange, Oxford, Plainville, Plantsville, Plymouth, Prospect, Redding, Ridgefield, Riverside, Shelton, Sherman, Simsbury, Southbury, Southington, Southport, South Windsor, Stamford, Stratford, Terryville, Thomaston, Torrington, Trumbull, Wallingford Center, Waterbury, West Hartford, West Haven, Weston, Westport, Wethersfield, Wilton, Windham, Windsor, Wolcott, Woodbridge, Woodbury, and surrounding areas.