Mold Removal in Milford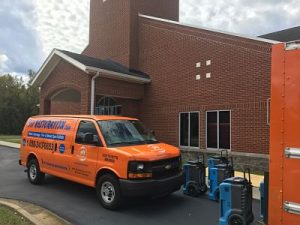 Mold is a particularly frustrating form of property damage. And the better you understand mold, the more stressful an infestation can become. You learn that the fungus eats away at your property, reproduces effortlessly, and can be harmful to your health. If you're starting to feel overwhelmed by your infestation, take a deep breath, relax, and call 911 Restoration of Connecticut. We've got this.
Our IICRC certified mold remediation technicians have plenty of experience with mold cleanup in Milford. They know that the battle against mold feels never-ending for many home and business owners. Between hot, muggy summers and the high rate of property water damage, mold feels like a constant threat. Fortunately, our mold removal experts are educated, equipped, and ready to make your beloved home or business feel like your own again.
Your dedicated mold decontamination workers handle every aspect of restoration. They uncover every hidden growth with a thorough mold inspection. They remove all discovered colonies and dehumidify the structure to prevent a second infestation. They even manage all necessary repairs, from drywall replacement to carpet removal. In the end, you're left with a property that feels brand new. At 911 Restoration, we're more than a mold removal company. We're a Fresh Start company.
911 Restoration of Connecticut is locally owned and operated, so you can be sure our entire team is invested in the wellbeing of our neighbors. The mold decontamination staff approaches each job with compassion, treating your property as if it were their own. They understand the stress you're under, and they communicate clearly so you always know which services they're providing and why.
The bottom line: we're here to take care of you. All you have to do is give us a call and tell us where to be.
Basement Mold Removal in Milford
One of the most common calls we get is for mold in basements. It's hardly surprising. Local properties are especially vulnerable to basement flooding. And those concrete floors absorb moisture like a sponge. Over time, that stored dampness returns to the surface, creating the perfect breeding ground for mold.
If you're one of the many property owners requiring basement mold remediation in Milford, your best bet is to call 911 Restoration. Our mold cleanup technicians are certified in water damage restoration. This means they understand the behavior of mold following a basement flood. They know how to perform a complete mold inspection to uncover every colony hidden in the walls and corners of your basement. 
When mold inspection is complete, the mold decontamination workers remove all discovered colonies. They perform mold removal using professional tools, careful to limit the release of mold spores. However, eliminating mold spores from the air entirely is nearly impossible. That's why the mold remediation experts also use professional fans for structural dehumidifying. This process dries your property complete, leaving any lingering mold spores with no damp places to land.
If your basement contains contaminated carpet or any other material compromised by mold, we've got that covered, too. Our technicians count structural and surface repairs among their many mold remediation skills. As far as they're concerned, they haven't really fixed your problem until every trace of the problem is gone.
Don't live with a moldy, contaminated basement any longer than you have to. Call 911 Restoration of Connecticut for prompt, expert mold decontamination.
Less Expensive Than Do-It-Yourself Mold Cleanup Techniques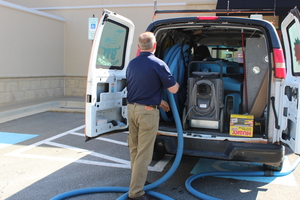 Worried about mold removal costs? We can promise you two things.
First, we at 911 Restoration do everything we can to keep your mold cleanup costs low.
Second, hiring a certified mold remediation specialist will always be cheaper than attempting mold removal yourself. 
If that seems hard to believe, look at this way. Our mold cleanup professionals start every job with a mold inspection. This ensures that the work they do actually eradicates mold effectively. As a property owner, you're likely to clean only the mold you see… which is the same as doing nothing at all if that mold spawned a second colony hidden out of sight.
Our technicians also take preventative measures once mold removal is complete. They use professional tools to dehumidify the structure where mold grew. Without this step, moisture is bound to rise to the surface again. And because mold spores are ever-present, that damp surface soon becomes the site of your next mold infestation. With each new infestation, mold continues to eat away at the surfaces of your home or business. Before long, you're looking at costly damages. And, because of that hidden infestation, you still have an ever-expanding colony. Eventually, you'll have to shell out more money for a professional mold remediation service.
We know hiring a mold removal contractor feels like another expense to add to the list. But we promise that when you reach out to 911 Restoration of Connecticut, you'll be rewarded with affordable solutions and a Fresh Start. Call today and save in the long run.
Servicing Ansonia, Beacon Falls, Berlin, Bethany, Bethel, Branford, Bridgeport, Bristol, Brookfield, Cheshire, Clinton, Cos Cob, Connecticut, Danbury, Darien, Derby, Durham, East Glastonbury, East Haven, East Hartford, Easton, Enfield, Fairfield, Farmington, Georgetown, Glastonbury, Greenwich, Groton, Guilford, Hamden, Hartford, Madison Center, Manchester, Meriden, Middlebury, Middlefield, Middletown, Milford, Monroe, Naugatuck, New Britain, New Canaan, New Fairfield, New Haven, New London, New Milford, Newtown, North Branford, Northford, North Haven, Norwalk, Norwich, Old Greenwich, Orange, Oxford, Plainville, Plantsville, Plymouth, Prospect, Redding, Ridgefield, Riverside, Shelton, Sherman, Simsbury, Southbury, Southington, Southport, South Windsor, Stamford, Stratford, Terryville, Thomaston, Torrington, Trumbull, Wallingford Center, Waterbury, West Hartford, West Haven, Weston, Westport, Wethersfield, Wilton, Windham, Windsor, Wolcott, Woodbridge, Woodbury, and surrounding areas.