Mold Removal in Stratford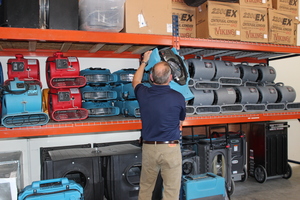 It's funny how a few splotches on the wall can make your property feel like it's no longer your own. But that's the way it is with mold. After all the work you've put into creating and maintaining this refuge, you get hit by an invasion of fungus, eating away at your property and contaminating the air you breathe. The good news is that 911 Restoration is your ally in this battle. We provide comprehensive mold cleanup in Stratford and the surrounding area. That means we do whatever it takes to make your home or business feel like the sanctuary it once was.
Whether your infestation is the result of a flooded basement after a thunderstorm or you're not sure where the problem came from, you can count on us to fix the problem and eliminate the cause. Our mold remediation technicians are IICRC certified and trained in all aspects of mold cleanup. They provide a thorough mold inspection to make sure no additional growth is hidden in dark, unseen places. They complete mold removal safely, then take additional measures to protect your property against future infestations. Your dedicated mold decontamination crew even handles repairs for any compromised surfaces.
To us, you're more than a customer. You're a neighbor in need. That's why our mold remediation team is driven to provide you with comprehensive mold cleanup and a truly Fresh Start. You've put so much into making your house a home or your business a place of inspiration. We want to honor that investment by fully restoring your property after a fungal invasion.
For compassionate, expert mold removal in Stratford and beyond, call 911 Restoration of Connecticut.
Mold Inspection Following Water Damage
It's always best to order a mold inspection any time you suspect an infestation, but it's especially important after a water damage incident. Mold spores only need 24 hours of access to a damp surface in order to start a thriving mold colony. That's plenty of time in the wake of a property flood. Not to mention, water seeps into all the dark, hidden corners of your home or business. This is where mold thrives. And without a professional mold inspection, that mold is likely to spread and reproduce before you even begin to suspect its existence.
Our mold remediation crew diligently examines every square inch of your property for signs of infestations. They understand how essential it is to uncover a new invasion and begin mold removal as soon as possible. Otherwise, the fungus eats away at the organic materials that hold your property together. Wood, glue, wallpaper… mold breaks all these materials down, leaving you with costly damages. Our mold remediation professionals perform a thorough inspection today so they can save you money in the long run.
Your health is another important reason to order a mold inspection after water damage. While black mold is the most famously dangerous fungus, most types of mold have allergenic or pathogenic properties. They contaminate the air you breathe, and over time, that contamination can cause allergies, asthma, or other health challenges. Immediate mold decontamination isn't just about protecting your property. It's about preserving your health.
If you've recently experienced a property water incident, don't delay. Call 911 Restoration of Connecticut for a mold inspection today. Our diligent technicians do what it takes to keep you safe.
Comprehensive Mold Remediation in Stratford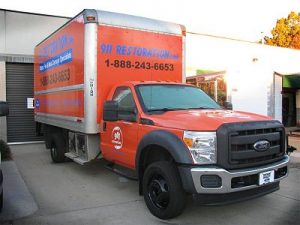 At 911 Restoration of Connecticut, we believe mold remediation should make you feel as if your property never experienced an infestation. That means clearing out all signs of fungus and restoring your home or business to good-as-new condition.
How do we do this?
First, our mold decontamination specialists inspect your entire property for mold. Once they know for sure they've found every trace of growth, they use professional tools to complete the mold removal process. Once mold cleanup is done, they bring in fans for structural dehumidifying. In this process, they dry the structure of your property to its core. This way, no moisture is left behind to rise to the surface and invite a new infestation. 
When our mold decontamination staff is satisfied that they've adequately protected you from recurring mold growth, they test the structure for weakness or damages. Mold can destroy your property in a variety of ways, but the mold cleanup crew is prepared to handle any form of damage. From drywall replacement to carpet removal, they do it all. When all is said and done, you're left with a property that feels as clean and new as the day you moved in. Those unsightly stains and that mildew smell will be nothing more than a foggy memory.
At 911 Restoration, we've got all your bases covered. You don't have to worry about a thing. Just call today and start looking forward to a Fresh Start.
Servicing Ansonia, Beacon Falls, Berlin, Bethany, Bethel, Branford, Bridgeport, Bristol, Brookfield, Cheshire, Clinton, Cos Cob, Connecticut, Danbury, Darien, Derby, Durham, East Glastonbury, East Haven, East Hartford, Easton, Enfield, Fairfield, Farmington, Georgetown, Glastonbury, Greenwich, Groton, Guilford, Hamden, Hartford, Madison Center, Manchester, Meriden, Middlebury, Middlefield, Middletown, Milford, Monroe, Naugatuck, New Britain, New Canaan, New Fairfield, New Haven, New London, New Milford, Newtown, North Branford, Northford, North Haven, Norwalk, Norwich, Old Greenwich, Orange, Oxford, Plainville, Plantsville, Plymouth, Prospect, Redding, Ridgefield, Riverside, Shelton, Sherman, Simsbury, Southbury, Southington, Southport, South Windsor, Stamford, Stratford, Terryville, Thomaston, Torrington, Trumbull, Wallingford Center, Waterbury, West Hartford, West Haven, Weston, Westport, Wethersfield, Wilton, Windham, Windsor, Wolcott, Woodbridge, Woodbury, and surrounding areas.