Mold Removal in Waterbury
Summers in Waterbury are exceptionally humid, often causing instances of mold to grow in both homes and businesses alike, especially if there is water damage present. When dealing with mold, it is necessary to hire a restoration company that is fluent in both water damage and mold removal; otherwise, the issue will persist. 911 Restoration of Connecticut is capable of administering thorough mold remediation that includes repairing any water damage, stopping the infestation at the source. Property owners will receive a free visual mold inspection that will allow technicians to determine the extent of the damage and come up with an estimate. Decades of experience has given the repair techs the skills needed to resolve any situation, from cleaning mold on walls to eradicating basement mold infestations. 911 Restoration of Connecticut is IICRC certified, along with being licensed, bonded, and insured so that customers can have full confidence in the mold removal team.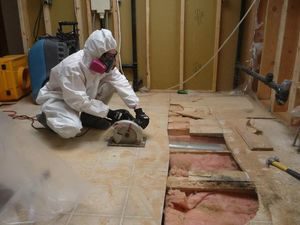 The top priority is to ensure your safety amid a mold crisis. Breathing in spores can affect your health, making fast and thorough mold decontamination crucial to a complete recovery.
Technicians will do everything in their power to make your property a clean, safe space for you and your family to enjoy, including testing the mold to make sure it is not a toxic substance.
911 Restoration of Connecticut is qualified to conduct mold remediation in both residential and commercial properties, making it possible for home and business owners alike to receive our restoration services.
Call the team that cares and understands your needs when you require water damage and mold removal in Waterbury and let the technicians show you that a mold problem can be the beginning of a Fresh Start!
Our Restoration Company Specializes In Mold And Water Extraction
As mentioned before, where there is mold, there is usually water damage, and as long as that moisture is present, the mold will continue to breed and spread through the walls, ceiling, and anywhere else it can find sustenance.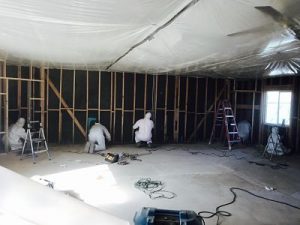 Like any other living thing, mold needs food and water to survive, which are unfortunately items typically found in a home or business, such as wood, paper, cardboard, and cotton.
By hiring the technicians at 911 Restoration of Connecticut, you can be absolutely sure that every aspect of the mold infestation will be eliminated, including any remaining leak or flood damage that may be causing the growth.
One of the most critical parts of a successful mold remediation job is making sure the area is as dry as possible.
Although this can prove to be difficult in a humid area such as Waterbury, technicians will get the job done by using powerful air movers and dehumidifiers.
Customers can depend on repair techs to conduct structural drying techniques that will ensure the area cannot sustain a mold colony once they are complete. So, call 911 Restoration of Connecticut today, and soon mold will be a problem of tomorrow.
Thorough Mold Removal Starts With A Mold Inspection
The initial mold inspection is integral to the mold removal process, not only by giving technicians a first look at the circumstances they are dealing with but giving them a chance at identifying the mold species.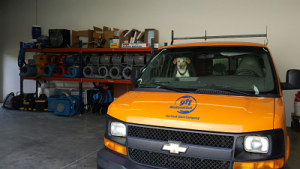 There are as many different kinds of mold as there are kinds of water damage, with some being more hazardous than the other.
Determining what type of mold is growing inside your home or business is vital to the health of everyone spending time in the property.
Even though some fungi are harmless, others can be dangerously toxic and need to be removed immediately.
Technicians will take professional mold samples and send them to a third-party laboratory to be tested. The results will give technicians the information they need to take the appropriate actions to sanitize your property.
Call 911 Restoration of Connecticut when you need a mold inspection in Waterbury and technicians will check every part of your property to ensure that they promptly clean away every trace of mold.