Mold Removal in West Haven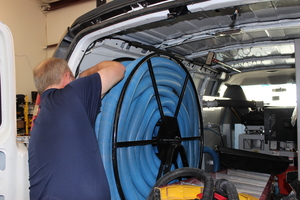 West Haven is a beautiful place to live and work, but it does come with a few downsides. Between the rainy season and the hot, muggy summers, local properties are constantly vulnerable to fungus. Fortunately, if you need mold remediation in West Haven or the surrounding area, Connecticut's greatest resource is only one call away. 911 Restoration of Connecticut is a locally owned and operated mold removal company. Our staff is made up exclusively of IICRC certified mold decontamination experts. These professionals have completed rigorous training and ongoing education to bring you the most effective and most affordable solutions in mold cleanup. 
Everything we do is driven by our Fresh Start philosophy. We believe every challenge presents a new opportunity to rebuild better than before. Our mold remediation technicians apply that attitude to every job they perform. When they enter your home or business, they're not just there to wipe away mold. They're there to eliminate the cause of the problem, prevent future infestations, and repair damages so your property feels like it was never contaminated in the first place. To put it another way, we give you a Fresh Start.
Our mold decontamination technicians are equipped to address any infestation on any property. They perform both residential and commercial mold remediation. And no matter what type of property you own, you can trust that these experts will treat your situation with empathy and compassion. Whether you're worried about passing a health inspection at work or protecting your family from mycotoxins, they understand what's at stake. They treat your property as if it were their own, conducting a detailed mold inspection and thorough mold removal.
Fungus is a relentless force, but with 911 Restoration on your side, it won't get the better of you. Call us today for the solution you've been looking for.
Your Go-To Mold Removal Company
911 Restoration of Connecticut has become many property owners' number one choice for mold inspection and mold removal in West Haven. Why?
For one thing, our customers can count on us for comprehensive mold remediation. Our mold cleanup professionals begin every job with a top-to-bottom mold inspection. Even if you can tell us where your infestation is located, we know that growth could have spawned additional colonies throughout your home or business. Our team is relentless about uncovering every growth. 
Then, when the mold inspection is complete, they bring in the most advanced equipment to handle mold removal. There are more than 100,000 types of mold, each one presenting a different degree of health and property risks. Our highly trained experts take this into account when they tackle your infestation. They use only the safest and most effective mold cleanup procedures for your unique situation.
After removing the colony, the crew dehumidifies the structure to prevent a repeat infestation. They also test for damages and address any destruction they discover. It doesn't matter if you need new drywall, a patched ceiling, or carpet removal. They do it all.
911 Restoration has become a staple in the local community because our neighbors know they can count on us to put their well-being above all else. Everything our mold remediation technicians do, they do to make your property safer, stronger, and healthier.
For mold decontamination in West Haven, choose the company that values you. Choose 911 Restoration of Connecticut.
Safe Black Mold Cleanup in West Haven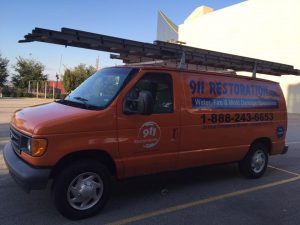 Black mold is a famously dangerous type of fungus. This variety is toxigenic, which means it releases mycotoxins that can cause severe health problems when inhaled over time. Black mold is often black-green in color and can take on a slimy or powdery appearance. If you suspect you have a black mold infestation, keep a safe distance. Prevent family members, pets, coworkers, or clients from entering the contaminated area. Then, call 911 Restoration of Connecticut for a mold inspection.
Our mold decontamination crew identifies the growth and conducts a mold inspection to be certain the infestation has not spread. They manage mold removal carefully, avoiding the spread of mycotoxins during mold cleanup. Then, they follow regular mold remediation procedures, including structural dehumidifying and any necessary repairs.
The most important thing is that you do not attempt black mold cleanup yourself. Scrubbing at the colony forces the fungus to release more mycotoxins into the air and into your lungs. Even if you think your infestation is a different type of mold, you should know there is no such thing as a harmless fungus. Call a certified mold remediation professional for help.
Whether you have brown mold or black mold, a house or a storefront, 911 Restoration of Connecticut is always your best bet for safe, lasting mold decontamination. Call today.
Servicing Ansonia, Beacon Falls, Berlin, Bethany, Bethel, Branford, Bridgeport, Bristol, Brookfield, Cheshire, Clinton, Cos Cob, Connecticut, Danbury, Darien, Derby, Durham, East Glastonbury, East Haven, East Hartford, Easton, Enfield, Fairfield, Farmington, Georgetown, Glastonbury, Greenwich, Groton, Guilford, Hamden, Hartford, Madison Center, Manchester, Meriden, Middlebury, Middlefield, Middletown, Milford, Monroe, Naugatuck, New Britain, New Canaan, New Fairfield, New Haven, New London, New Milford, Newtown, North Branford, Northford, North Haven, Norwalk, Norwich, Old Greenwich, Orange, Oxford, Plainville, Plantsville, Plymouth, Prospect, Redding, Ridgefield, Riverside, Shelton, Sherman, Simsbury, Southbury, Southington, Southport, South Windsor, Stamford, Stratford, Terryville, Thomaston, Torrington, Trumbull, Wallingford Center, Waterbury, West Hartford, West Haven, Weston, Westport, Wethersfield, Wilton, Windham, Windsor, Wolcott, Woodbridge, Woodbury, and surrounding areas.