Pipe Burst Milford
Pipe burst emergencies happen due to floods, sewage backup, and insufficient maintenance on your water line. Our pipe burst Milford crew has over 35 years of experience and 911 Restoration Connecticut uses the latest drying technology to help with all of these situations. We are licensed, insured, and bonded in all of the following to restore houses no matter how bad the damage is:
Water Removal
Disaster Restoration
Mold Remediation
Sewage Backup Cleanup
We are available 24/7 to help you with quality restoration services. Since Milford, CT has over 14 miles worth of shoreline along Long Island Sound, it is a good idea to know a professional pipe burst Milford company. We will respond within 45 minutes to start pumping water from your home and our work is top notch. By the time we finish your how will be in like new condition. The expansive shoreline means that storms aplenty are possible are Milford, Connecticut. Rain can overwhelm the city's water line, resulting in over-pressurized pipes. In addition, winters in our northern state will often create frozen pipe Milford disasters. No matter how a pipe burst occurs, call us for water damage restoration services at an affordable price.
Who do Call for a Pipe Burst?
Call our pipe burst Milford any time your property suffers a pipe burst and we provide same day service drying and clean up. Shut down your water line as soon as possible. The sooner you react to the pipe burst the less damage your home sustains. Once we finish water extractions, we provide a free inspection to check for mold, which is a likely consequence of excessive water provided by plumbing disasters.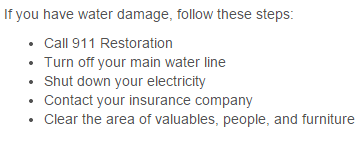 As soon as we get the damage under control we will help you file an insurance claim. We are working with all insurance companies, which is important because, according to the Insurance Information Institute, water damage is one of the most frequent reasons for insurance loss. Having our pipe burst Milford professionals on your side in this traumatic time is essential to getting the most out of your homeowner's insurance.
We value professionalism and it shows when we restore your home after rain leaks, toilet overflow, and water heater floods. Whether it is a washer burst or storms that damage your property, call our pipe burst Milford specialists for a fresh start in the city of Milford and we will respond within 45 minutes.