Snow Storm Restoration Connecticut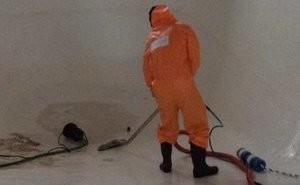 The impact of a snowstorm in Connecticut can cause costly damages to homes and businesses. When your property is affected by a blizzard or snowstorm you can count on the snowstorm Connecticut pros with 911 Restoration of Connecticut.
Our team is available 24/7365 to assist regardless of the time, season or disaster and with a 45 minute arrival time, you don't have to worry about making multiple calls.
With a wide range of services available, the snowstorm Connecticut pros offer comprehensive services such as:
Water extraction
Mold removal
Wind damage
Pipe bursts
Ceiling leaks
Roof damage
Our IICRC certified snowstorm Connecticut pros offer same day services, so you can count on 911 Restoration to be there when you need and provide affordable and quality repairs for your property, so call us today!
The Impact a Snow Storm Can Have On Your Home
Wind, rain and chilling temperatures can cause expensive damages if proper measures are not taken in a timely manner. The most overwhelming type of damage a property owner can endure is water damage.
When you work with our team, you work with a staff of caring professionals. While the snowstorm Connecticut pros are working on repairs, they also take the time to work with customers on how to avoid costly future repairs. Some simple ways to prepare your home:
Wrap pipes with heating tape to keep pipes warm
Inspect roofing drainage to prevent ice build up
Clear walkways by applying ice melt (this can be purchased at most hardware stores)
If these simple tips are disregarded, you may be giving water an open invite inside your home. Once water enters in, you run the risk of mold growth. It takes a pool of stagnant water no more than 24 hours to start building bacteria and mold spores. The last thing you want to deal with during a blizzard is mold removal, so the minute you notice damages, don't prolong your call.
The snowstorm Connecticut pros arrive fully geared and equipped with top of the line equipment so they can get to work as soon as you decide.  Let our team keep your home dry and repair it even better than its original condition. For all of your restoration needs including water extraction, mold removal and storm damage, call the experts with 911 Restoration of Connecticut.
Storm Specialists That Will Get You Through The Insurance Process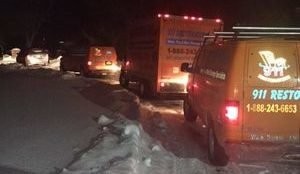 We completely understand how overwhelming a repair situation can be, but our staff is here to alleviate as much as stress as possible. We assign every customer to an experienced project manager. From scheduling your same day service appointment to helping you file your insurance claim, we are confident that we will get you through as smoothly as possible.
Our goal is to provide each of our customers with peace of mind, quality and long-term repair solutions. Call us at the first sign of snow damage on your property, and our snowstorm Connecticut pros will be there to give you the Fresh Start you deserve!