Water Damage in Bristol
If not treated right away, water damage can manifest mold growth and structural problems within a relatively short period. To minimize these issues, 911 Restoration of Connecticut stays available 24/7/365 to provide same-day water removal and drying services. Our technicians will respond immediately when you need water damage restoration in Bristol. We understand that the wellbeing of your property and your health is paramount, which is why our repair techs guarantee to arrive within 45 minutes of receiving your call. We will start the restoration procedures right away, starting with a free water damage and mold inspection for the property owner.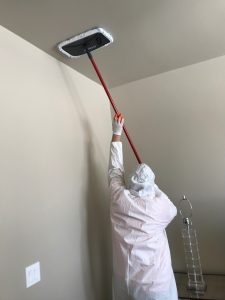 911 Restoration of Connecticut is available for 24-hour emergency water cleanup. Our technicians will arrive ready to administer same-day repair services for all kinds of water damage.
As a locally owned and operated flood cleanup company, our entire staff understands how Bristol's climate impacts homes and businesses in the area. You can rely on us to formulate a water removal strategy specifically designed for you.
We want to put you at ease as soon as our technicians arrive. You can feel confident that you're in the best hands, knowing that our IICRC certified experts have reached the highest standards in the industry.
On top of working with experienced, certified professionals, our whole restoration company is licensed, bonded, and insured. This insurance status ensures that you're protected in full, no matter the circumstances.
Whether dealing with a flooded basement, carpet water damage, pipe bursts, or ice dams, our repair techs will completely repair your property, leaving it looking better than new.
When you need commercial or residential water damage cleaning, call the team that cares and understands your needs. Contact 911 Restoration of Connecticut today, and we will show you that it is possible to turn a water damage emergency into a Fresh Start!
Full-Service Mold and Flood Cleanup for Any Situation
Bristol is prone to extreme weather patterns that include thunderstorms, tropical cyclones, and nor'easters. All of these storms create substantial precipitation, which can lead to basement floods, ceiling leaks, pipe bursts, and mold growth.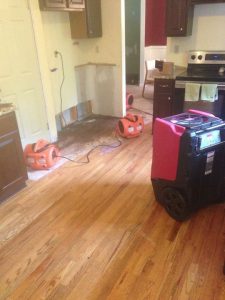 Regardless of the situation, you can trust that our technicians will perform full-service water damage restoration. We will conduct thorough water extraction, drying, and dehumidifying procedures to recover your property entirely.
When a flooded basement confronts you, it is crucial to receive immediate flood cleanup in Bristol. The longer water damage lingers inside the property, the more destruction it will cause.
In as short as 24 hours, mold spores can start growing throughout walls, ceilings, and anywhere else moisture is present. Not only will mold affect the structural integrity of your property, but it can influence your health.
Mold spore exposure can cause allergy and respiratory issues. To ensure your safety, our technicians will implement meticulous mold removal services. Mold flourishes in damp, warm environments, which is why the drying process is essential to mold removal and prevention.
We will use high-powered sump pumps, wet vacuums, air movers, and dehumidifiers to ensure that every inch of the property is as dry as possible. We will even clean up carpet water damage and disinfect basement floors after a flood.
Our repair techs will not leave your home or business until there is absolutely no moisture left inside. So, give 911 Restoration of Connecticut a call as soon as you need comprehensive water damage restoration. We will provide you with peace of mind today!
We Will Walk You Through the Water Damage into a Fresh Start
Throughout our time in the restoration industry, we have come to realize that customer service is an integral part of the water damage restoration. Keeping you satisfied is our main concern, and our dedicated staff will ensure your wellbeing.
Giving you as much information as possible is the best way to keep you feeling calm and secure about the situation. This is why our staff stays available around the clock to answer your questions as soon as you have them.
Understandably, you will want to know the water cleanup cost right away. Our technicians will provide you with a detailed estimate before we render any leak repairs or flood cleanup services.
You will find that 911 Restoration of Connecticut has affordable, high-quality water restoration services. We also accept all types of insurance to keep your out-of-pocket expenses low.
If you have never filed an insurance claim, you may need assistance with the submissions process. Our staff will make this part easy by offering free insurance consultations. We will make sure you fluently understand your insurance policy. Knowing the details of your plan is vital since some insurance companies have restrictions on the coverage they provide.
For example, not all insurance companies cover water damage caused by overflowing bodies of water or property owner negligence. In these cases, you may need a supplemental insurance policy to receive full financial assistance.
911 Restoration of Connecticut will make sure your provider gets an itemized list of your losses. Our onsite technicians will help you take inventory of the damage. We will file your claim for you and directly bill your insurance provider.
Call 911 Restoration of Connecticut when you have questions about water extraction, insurance submissions, or anything else related to water restoration. Our technicians will give you the answers you need to obtain the Fresh Start you deserve!
Servicing the cities of Abington, Ansonia, Ashford, Beacon Falls, Berlin, Bethany, Bethel, Bloomfield, Branford, Bridgeport, Bristol, Brookfield, Cheshire, Clinton, Cos Cob, Connecticut, Danbury, Darien, Derby, Durham, East Glastonbury, East Haven, East Hartford, Easton, Enfield, Fairfield, Farmington, Georgetown, Glastonbury, Greenwich, Groton, Guilford, Hamden, Hartford, Hawleyville, Madison, Manchester, Meriden, Middlebury, Middlefield, Middletown, Milford, Monroe, Montville, Naugatuck, New Britain, New Canaan, New Fairfield, New Hartford, New Haven, New London, New Milford, Newtown, North Branford, Northford, North Haven, Norwalk, Norwich, Old Greenwich, Orange, Oxford, Plainville, Plantsville, Plymouth, Prospect, Redding, Redding Center, Ridgefield, Riverside, Rocky Hill, Sandy Hook, Shelton, Sherman, Simsbury, Southbury, Southington, Southport, South Windsor, Stamford, Stratford, Terryville, Thomaston, Torrington, Trumbull, Vernon Rockville, Wallingford, Waterbury, Waterford, Watertown, West Hartford, West Haven, Weston, Westport, Wethersfield, Wilton, Winchester, Windham, Windsor, Wolcott, Woodbridge, Woodbury, and the surrounding areas.