Water Damage and Mold Removal Cheshire
Water Damage Cheshire, CT
As the leading water damage Cheshire team, 911 Restoration Connecticut is here to help you get your home or office location back to normal in no time after it has been affected by any type of water disaster.
Imagine spending a great day at the Barker Character, Comic and Cartoon Museum in Cheshire, Connecticut checking out the collections of memorabilia.
Damage can also be the result of Mother Nature by means of flooding or storm damage. Our water damage Cheshire experts know how important it is to act quickly in these situations, so we guarantee to arrive within 45 minutes of receiving your call when water is involved.
As a homeowner, you should ensure all gutters and downspouts around your home are regularly tended to by being cleaned and checking to make sure they are debris free to ensure excess water properly drains from the roof of the home.
You drive home through the picturesque streets reminiscing about the cartoons of your youth, park in your driveway and open the front door. A huge pool of water sits in the middle of your living room floor, and storm clouds descend on your relaxing day. When you discover floodwater in your home or signs of a mold infestation on your property, you can trust in the abilities of our water damage Cheshire professionals to solve the problem almost just as quickly as it started. 
Our mold removal Cheshire technicians have many years of experience eradicating floodwater and fungi from homes. When when you hire our water damage Cheshire agents, you can rest assured that you are getting assistance from some of the most well-trained workers in the business. We are licensed, bonded and insured to provide you with the following mold remediation procedures:
Comprehensive mold cleanup and water damage restoration

Crawlspace and subfloor cleanup

Washing machine ruptured hose repair

Water heater explosion cleanup

Flooded basement cleanup

Mold infestation removal

Mildew odor removal

Mold spore testing

Sanitization and decontamination after sewage backup

Leaky plumbing system repair

Pipe burst repair and cleanup

Faulty fire sprinkler repair

Replacement of soaked drywall

Water extraction and drying services
It is important to act with urgency when mold is involved with any remediation job, because our water damage Cheshire pros want to limit the effect it has on your property and anyone breathing in the spores. In order to provide you with this expert service, our mold removal Cheshire staff is available 24/7/365 to assist you, making it easy to schedule an appointment with our water damage Cheshire team.
Call our water damage Cheshire specialists today, and our mold removal Torrance team will get the process started by working with IICRC certified experts to conduct a free visual mold inspection as soon as we arrive.
Causes of Water Damage and Flooding

If you notice that your ceiling is experiencing water damage even though you had your roof inspected before the rainy season, then your gutter may be the culprit.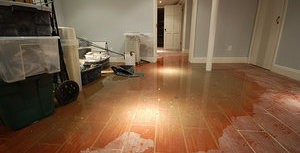 When they get clogged with debris, rainwater can become backed up, overflowing onto the roof itself. Even if there are no major cracks, that water can still leak into the household, causing moisture to damage the ceiling and walls.
The downspout may also be contributing to these water damage issues as well. If it is not extended to the desired length, that being at least 10 feet away from the home, then the water can flow back into the property.
Our water damage Cheshire specialists know all the ins and outs of keeping your home protected against water damage caused by malfunctioning gutters and downspouts.
If the water damage in your home is the result of a plumbing malfunction, turn the main water line off as soon as you are able to. This will help keep damage to a minimum while our water damage Cheshire crew arrives. Examples of damage from a plumbing malfunction include:
A pipe burst during cold weather
A washer burst
A fire sprinkler mistakenly discharging
Toilet overflow
Water heater leak
Excess water weight can cause roof damage resulting in leaks. You should also check any problem areas around your home that you notice tend to stay wet such as around certain doors or windows. Moisture can occur as the result of condensation, however, if the moisture is the result of a leak, you should as quickly as possible find the cause and fix the issue to keep damage to a minimal.
Don't hesitate to call our water damage Cheshire team at the first sign of trouble. Our mold removal Cheshire technicians are standing by day and night to help you with any water damage in your home or business.
Professional Water Damage Restoration Services

Water damage restoration is a chore that is best left in the hands of a professional. By calling our water damage Cheshire professional to help with water damage cleanup in your home you are enlisting the latest drying technology and the most efficient water removal devices available.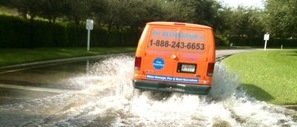 If damage is not immediately discovered it can quickly and silently spread to areas of your home that you are unaware.
At 911 Restoration, our water damage Cheshire team has the means to check to see the extent of damage that has been done and restore your home in the best ways possible.
When you are in need of the help of a professional for water damage give our mold removal Cheshire staff a call. Our water damage Cheshire techs will provide you with same day service and a free inspection before any services are performed.
Our company is licensed, insured, and bonded. Our mold removal Cheshire operation has staff available 24 hours a day, 7 days a week and our water damage Cheshire crews guarantee that we will respond to your call as quickly as we can.
Our water damage Cheshire staff has many years of disaster restoration experience, values professionalism and always makes sure our customers come first. Our mold removal Cheshire professionals work with all insurance companies to help provide affordable prices for the services provided to our clients.
If your office park or home location is already amid a flooding of some sort, then contact our water damage Cheshire specialists with 911 Restoration Connecticut for help today!