Water Damage and Mold Removal Cos Cob
Water Damage Cos Cob, CT
Our water damage Cos Cob technicians with 911 Restoration Connecticut see various forms of damage and weather is one of the biggest contributors. Living in Cos Cob makes you susceptible to roof leaks from storms blowing in off the Atlantic and floods rising from the Mianus River.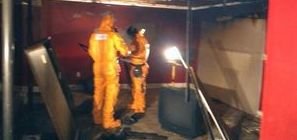 Our team want to be the repair workers you trust to repair your home or business after it has been affected by a water disaster.
In order to best assist you, our agents are available 24/7/365. Our pros never want to keep your waiting, especially if your situation involves water, because the longer moisture sits on your property, the more damage sets in, including mold infestations.
Our staff always arrive at your property within 45 minutes, even if you call us in the middle of the night. When you hire our team, you can be sure that we always bring our high-tech equipment, so we are ready to get to work immediately.
Our technicians pride ourselves in our quick and efficient same day services and our water damage Cos Cob experts want to show you just how hard we are willing to work for you. Our agents work with IICRC certified professionals to offer you mold extraction and flood cleanup services, such as:
Comprehensive mold cleanup and water damage restoration

Crawlspace and subfloor cleanup

Washing machine ruptured hose repair

Water heater explosion cleanup

Flooded basement cleanup

Mold infestation removal

Mildew odor removal

Mold spore testing

Sanitization and decontamination after sewage backup

Leaky plumbing system repair

Pipe burst repair and cleanup

Faulty fire sprinkler repair

Replacement of soaked drywall

Water extraction and drying services
Our mold removal Cos Cob pros have many years of experience in the water disaster industry and are very familiar with all the different techniques needed to make your home completely dry and clean. When a roof leak allows rain into a home, problems escalate exponentially. Cos Cob's rich history lends itself to great stories and a sense of community pride, as well as pipe bursts.
The 150 year history of the town built on Cos Cob harbor means plumbing was made of less reliable materials and fails easily, especially during freezing winter months.
When pipes freeze and leaks occur, these problems grow just as fast as roof damage. Our team has many years of experience dealing with these conditions. Our crews offer affordable prices when it comes to all water damage restoration services and we provide free inspections that will teach you how to keep your home safe in the event of a disaster.
You can trust our agents to complete the job the first time around, so call our pros today and we will give you a free estimate as soon as we arrive to get the process started.
Water Damage Restoration Specifics

Our water damage Cos Cob company reports that rain leaks, flooded crawl spaces, and pipe bursts are the main causes that explain how water damage happens.
Our residents experience flooding when enough water accumulates in, or around a home soaking it to the point, some damage has been done.
This consists of anything from rotting wood to mold infestations—a dangerous occurrence when mold spores come indoors and breed in moist areas.
If you ever see black spots on your walls be sure to call our company for a free mold inspection as we offer all the restoration services.
Our mold removal Cos Cob pros certainly handles it all, and our expertly trained professionals use the latest drying technology to keep water damage minimal and offer top-rated water extractions. Our team members are here to restore your home back to normal, so give us a call today!
Preventing Flooding and Water Damage
Just ask our water damage Cos Cob team and they will say that you can prevent water damage from storms by purchasing storm shutters, heavy-duty roof shingles, and sump pumps.
You can prevent pipe leaks with a professional yearly inspection, and upgrade your plumbing as technology advances.
Sewage backflow valves will prevent sewage backup, which is one of the worst water damage experiences you can have. Most toilets overflow due to unseen clogs and plumbing accidents. The sewage backflow valve directs the returning water elsewhere, sealing the water line.
If you ever experience a black water overflow call our certified sewage backup company immediately, and let us deal with this dangerous hazard.
In the event flooding does begin from somewhere inside your home, know where your interior water shut off valves are located and then turn them to the off position. If water leaks from an individual source, there is usually a valve nearby you can twist to shut off the water lines.
It is important to work with a company who understands the wants and needs of the customer, especially during such an overwhelming time.  Our experts will always provide you with the utmost customer service no matter how big or small your issue may be, which includes being incredibly accessible to you.
Our mold removal Cos Cob pros will help you with all aspects of the renovation, including understanding your insurance policy. It can become confusing to figure out what is and what is not covered under your plan, but our professionals know all the ins and outs of the process.
It is important that you keep your out of pocket expenses low, so in order to get you the best coverage possible, our staff members will file your claim for you. Don't let your amazing home fall victim to the effects of a flooding or mold nightmare without help from the best in the business. Contact our water damage Cos Cob team with 911 Restoration Connecticut for immediate assistance today!