Water Damage in Danbury
The weather conditions in Danbury can be rough on homes and businesses in the region. Between thunderstorms and hurricanes, there are many opportunities for water damage to impact your property. When you need leak repairs or flood cleanup in Danbury, you can count on 911 Restoration of Connecticut for immediate help. Day or night, our professionals are available 24/7/365 to provide emergency water damage restoration. We guarantee to arrive at your property within 45 minutes, ready to administer same-day water removal and repair services.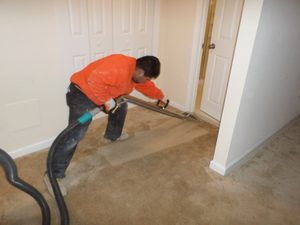 911 Restoration of Connecticut understands that swift action is crucial when dealing with all kinds of water damage. To ensure we waste no time, our technicians provide 24-hour emergency water cleanup.
As soon as our repair techs arrive, we will provide the property owner with a free water damage and mold inspection. Since moisture breeds mold, we routinely check for both issues while conducting our initial assessment.
Danbury's humid continental climate creates environmental conditions conducive to water damage and mold infestations.
Fortunately, 911 Restoration of Connecticut is locally owned and operated, making our staff keenly aware of how the weather patterns in Danbury affect homes and businesses. You can trust us to execute a water damage restoration plan specifically designed for your situation.
Whether you're dealing with a pipe burst, mold, or flooded basement, our technicians will recover your property entirely. 911 Restoration is licensed, bonded, and insured and employs IICRC certified technicians, so you can be confident that we can handle even the most extreme circumstances.
So, call us when you need commercial or residential water damage cleaning. 911 Restoration of Connecticut will show you that with the right water mitigation services, a Fresh Start is possible today!
Water Damage and Mold Can Form Within a Matter of Days
You can depend on our professionals to respond quickly to your water damage emergency. With so many years conducting water and mold removal services, we have learned that even minor cases of water damage can cause mold growth.
Mold tends to grow in areas of the property that often go unnoticed, such as in attics, crawlspaces, and basements.
We realize that mold can have an elusive quality, which is why our technicians routinely check for mold while conducting water damage restoration in Danbury.
Basement floods and pipe bursts are some of the most common causes of mold growth. While you can count on us for thorough mold and flood cleanup services, it is still important to implement preventative measures throughout the year.
High pressure in the plumbing system can increase the chances of incurring water leaks in your basement. By measuring your water pressure with a hose bib gauge, you can keep the pressure levels in check.
Freezing, winter temperatures mostly cause pipe bursts. When pipes freeze, the water inside expands, often cracking the metal casing. Once the ice thaws, it will burst out of the pipe, resulting in a flooded basement.
It is essential to know that mold can grow even during the cold months, as long as the indoor temperatures are consistently warm. This is often the case if you use a heating system during the winter. Since it only takes 24 hours for mold spores to grow after moisture exposure, it's important to reach out for flood cleanup services the moment you discover water damage.
Call 911 Restoration of Connecticut when you need basement water removal services, mold decontamination, or water restoration anywhere in your home or business.
We Know What You Need From a Flood Cleanup Company
911 Restoration of Connecticut takes customer service seriously. We understand the challenges that water damage poses, which is why we aim to give you peace of mind as soon as we arrive.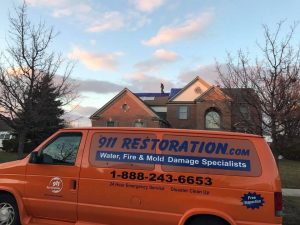 When you hire our restoration company, you can be confident that the most qualified technicians in the industry are working for you.
Our goal is to make this whole ordeal as easy on you as possible. The best way to do this is to stay accessible to answer any questions you may have about the water damage restoration.
By providing you with exceptional customer care, our professionals hope to make the water cleanup process quick and easy. We will take care of everything, from flood restoration to financial logistics.
If you have never filed a water damage claim before, our staff will provide you with a free insurance consultation. We will file your insurance claim and directly bill your provider, ensuring the submissions process goes smoothly.
We aim to make affordable, high-quality water damage restoration accessible to everyone in Danbury. So, call 911 Restoration of Connecticut today to receive help from a team that cares and understands what you need!
Servicing the cities of Abington, Ansonia, Ashford, Beacon Falls, Berlin, Bethany, Bethel, Bloomfield, Branford, Bridgeport, Bristol, Brookfield, Cheshire, Clinton, Cos Cob, Connecticut, Danbury, Darien, Derby, Durham, East Glastonbury, East Haven, East Hartford, Easton, Enfield, Fairfield, Farmington, Georgetown, Glastonbury, Greenwich, Groton, Guilford, Hamden, Hartford, Hawleyville, Madison, Manchester, Meriden, Middlebury, Middlefield, Middletown, Milford, Monroe, Montville, Naugatuck, New Britain, New Canaan, New Fairfield, New Hartford, New Haven, New London, New Milford, Newtown, North Branford, Northford, North Haven, Norwalk, Norwich, Old Greenwich, Orange, Oxford, Plainville, Plantsville, Plymouth, Prospect, Redding, Redding Center, Ridgefield, Riverside, Rocky Hill, Sandy Hook, Shelton, Sherman, Simsbury, Southbury, Southington, Southport, South Windsor, Stamford, Stratford, Terryville, Thomaston, Torrington, Trumbull, Vernon Rockville, Wallingford, Waterbury, Waterford, Watertown, West Hartford, West Haven, Weston, Westport, Wethersfield, Wilton, Winchester, Windham, Windsor, Wolcott, Woodbridge, Woodbury, and the surrounding areas.