Water Damage in East Hartford
The weather conditions in East Hartford put homes and businesses at risk of experiencing all kinds of water damage, such as flooded basements, pipe bursts, and basement water leaks. Water and mold removal costs can be overwhelming. However, when you work with 911 Restoration of Connecticut, you can be sure you are getting affordable, high-quality restoration. Our office is open 24/7/365, so you can call us the moment you need water removal and drying services. Day or night, we will arrive at your doorstep within 45 minutes of receiving your call. You can trust that our technicians are ready to conduct immediate flood cleanup in East Hartford, no matter what time you need help.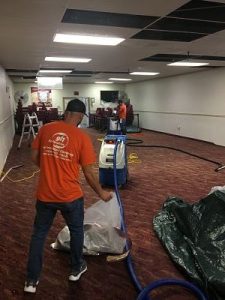 We will determine the source and extent of the water damage by giving the property owner a free water and mold inspection. This initial assessment will allow us to formulate an estimate of the necessary restoration services.
You will find that 911 Restoration of Connecticut offers competitive prices, as well as accepts insurance. We even provide free insurance consultations to ensure you fully understand your water damage restoration coverage.
We know that you will receive the most coverage by sending an itemized list of your losses to your insurance provider. Our on-site repair techs will help you with this process by taking inventory of the damage to your property and belongings.

We want you to receive the most financial assistance as possible. It is our goal for everyone to have access to professional water damage restoration in East Hartford.

You will find that 911 Restoration of Connecticut puts customer service at the forefront of everything we do. Our repair techs will ensure the water mitigation process goes smoothly by walking you through every aspect of the ordeal. 
From basement flooding repairs to insurance logistics, you can depend on our staff to get you through any water damage emergency. So, call 911 Restoration of Connecticut when you need comprehensive water restoration services!
Understanding the Signs of an Impending Pipe Burst
Pipe bursts typically occur in the winter, but it is possible to experience them throughout the year. While freezing temperatures are the top reason pipes burst, other factors can also come into play.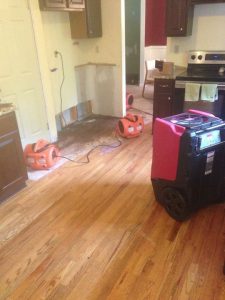 The plumbing system's age, the pipe material, and regional water type, all contribute to the likelihood of a burst pipe emergency. Continuously leaky pipes and dripping faucets can also indicate an imminent burst. 
Rust and hard water can corrode pipes, making them vulnerable to cracking. If there are minerals in the water, such as calcium and magnesium, they can eat away at the metal over time.
You should be aware of the warning signs of rusty, worn-out pipes since they are at a higher risk of breaking. There may be a broken pipe on your property if you notice water stains, faucet water discoloration, or low water pressure.
When our technicians conduct the initial water damage inspection, we will check for leaks, hairline cracks, and any signs of poor installation. By performing water damage restoration before a burst occurs, we will save you time and money.
However, even if a broken pipe causes a flooded basement, we will administer thorough flood cleanup services within the hour of receiving your call. Our repair techs won't waste any time containing the floodwater and starting the water removal procedures.

Call 911 Restoration of Connecticut if you feel your plumbing system may be on the verge of flooding your property. We are available for 24-hour home flood cleaning services today!

A Flood Cleanup Company that Specializes in Mold Removal 
Water damage is the leading cause of indoor mold growth. Situations involving ceiling leaks, flooded basements, and pipe bursts can start mold infestations in as short as 24 hours.
Along with eating away at the wood and drywall on your property, mold can affect the health of anyone inhaling the spores. Those spending time in the home or business may experience allergy symptoms and respiratory problems.
It is crucial to receive professional water damage restoration quickly to not only prevent structural damages, but to minimize the health risks posed by mold spores. The goal is to repair the water damage before the mold has a chance to grow. 
However, if our technicians find mold while conducting the flood cleanup, rest assured, we will also perform meticulous mold remediation. Using a wide range of mold removal techniques, we will locate the source of the growth and eradicate the infestation completely.
Even if you are unaware of water damage or mold on your property, there may be signs that mold is lurking somewhere out of sight. Musty odors, dark patches, water stains, and allergies are some of these indicators.
Our technicians will conduct an extensive mold inspection, making sure to look in all the hard-to-reach areas you may not be able to inspect yourself visually. We use infrared leak detection technology that allows us to check moisture levels inside walls and ceilings.
911 Restoration of Connecticut understands that water damage restoration and mold removal go hand-in-hand. Call the restoration company you can trust to take care of every aspect of the water mitigation. We will show you that a Fresh Start is possible today!
Servicing the cities of Abington, Ansonia, Ashford, Beacon Falls, Berlin, Bethany, Bethel, Bloomfield, Branford, Bridgeport, Bristol, Brookfield, Cheshire, Clinton, Cos Cob, Connecticut, Danbury, Darien, Derby, Durham, East Glastonbury, East Haven, East Hartford, Easton, Enfield, Fairfield, Farmington, Georgetown, Glastonbury, Greenwich, Groton, Guilford, Hamden, Hartford, Hawleyville, Madison, Manchester, Meriden, Middlebury, Middlefield, Middletown, Milford, Monroe, Montville, Naugatuck, New Britain, New Canaan, New Fairfield, New Hartford, New Haven, New London, New Milford, Newtown, North Branford, Northford, North Haven, Norwalk, Norwich, Old Greenwich, Orange, Oxford, Plainville, Plantsville, Plymouth, Prospect, Redding, Redding Center, Ridgefield, Riverside, Rocky Hill, Sandy Hook, Shelton, Sherman, Simsbury, Southbury, Southington, Southport, South Windsor, Stamford, Stratford, Terryville, Thomaston, Torrington, Trumbull, Vernon Rockville, Wallingford, Waterbury, Waterford, Watertown, West Hartford, West Haven, Weston, Westport, Wethersfield, Wilton, Winchester, Windham, Windsor, Wolcott, Woodbridge, Woodbury, and the surrounding areas.