Water Damage East Haven, CT
Water Damage East Haven, CT
Water damage is a frightening thing for any homeowner to have to deal with as it can cause mold growth and severe structural damage if not attended to quickly; 911 Restoration Connecticut is available 24/7/365 because we realize that fast, same day service from our water damage Eat Haven pros is essential to protecting your home.
Our water removal experts take great pride in protecting the homes and businesses within our special community.
What was once a farmland that later boomed into one of the state's financial centers with droves of businesses.
New Haven exists as a thriving locale making our crew cognizant that when we perform water damage restoration services we are simultaneously working to maintain the integrity of our special community.
Whether rain storms flood your crawl space or ruptured hoses turn your laundry room into a swamp of gray water, call us without delay and let our water damage East Haven company start pumping water from your home before the damage gets worse!
What Should I do when my Basement Floods?
When your basement floods the first thing to do is shut off the main water life if it resulted from a plumbing issue before calling our water damage East Haven team. This way you will prevent excess water from pouring in.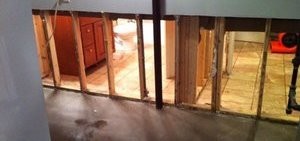 However, whether the flooding resulted from a pipe burst or a weather-related problem, be sure to quickly remove your valuables to a dry part of the home.
When you learn more about 911 Restoration Connecticut you will be delighted to know we respond within 45 minutes of every call ensuring your basement receives immediate attention.
Our speedy services ensure that your water damage 6512 zip code emergencies will receive immediate assistance from our water damage East Haven experts.
We also promise a fast response to surrounding zip codes that are within our range to treat any flooded basement scenario you may have. Give us a call for water damage restoration services that are affordable!
Water Damage Restoration Affordability
Water damage restoration services are affordable when you call our water damage East Haven team to perform water extractions, and we even offer a free inspection to ensure no hidden costs will pop up.
We have heard stories about other companies charging an arm and a leg while preying on a customer's state of vulnerability in a stressful time.
Therefore we always put the customer first by removing the smoke and mirrors from our water damage restoration East Haven services by offering an affordable price in our free quote right on the spot.
We are also working with all insurance companies to guarantee that the claim gets filed correctly and every cent gets covered.
Whether you have a toilet overflow that sends black water into the home or your downspouts send rain water into your home's foundation, call our water damage East Haven technicians with 911 Restoration Connecticut and let us restore everything while giving your home a fresh start today!