Water Damage in Enfield
Between the extreme weather patterns and property wear and tear, you may encounter water damage on your property at one point or another. When water invades your home or business, you can stay calm knowing that 911 Restoration of Connecticut is available around-the-clock to conduct water damage restoration in Enfield. We understand how important it is to get to the water damage emergency quickly, which is why our technicians stay available 24/7/365. We will never make you wait for water removal services. Day or night, our repair techs will arrive within 45 minutes of receiving your call.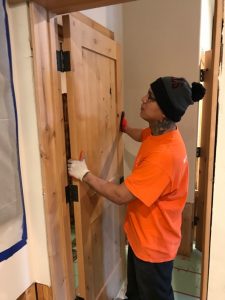 Whether you experience a flooded basement, pipe burst, or any other kinds of water damage, our technicians won't waste any time making repairs. We will start the water restoration off by giving the property owner a free water and mold inspection.
Mold and water damage typically go hand-in-hand, especially in Enfield, where humidity levels can get quite high. Through same-day water damage restoration, we can minimize your losses and health risks caused by invasive gray water and mold spores.
You can trust our repair techs to address every issue affecting your property, ensuring we leave it in a safe, clean state. 911 Restoration only employs the best in the industry. We work with IICRC certified technicians that have reached the highest standards in the industry.
On top of hiring experienced, accredited professionals, our entire restoration company is licensed, bonded, and insured to administer commercial and residential water damage cleaning.
As a locally owned and operated flood cleanup company, all of our staff members are aware of how the regional weather patterns impact homes and businesses in Enfield. You can have total confidence in our ability to restore your property from any situation.
So, call 911 Restoration of Connecticut the moment you experience a leak or flooding problem in your home or business. We are available to provide you with 24-hour emergency water cleanup services today!
Ice Dams Can Lead to Roof and Water Damage
The roof is the most critical aspect of a property and it needs to receive regular inspections to make sure it can sustain seasonal changes.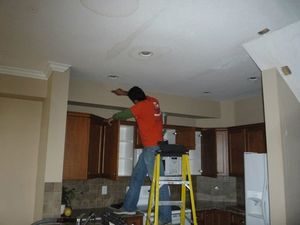 The roof is continuously sustaining exposure from the elements, which can be especially harsh during the winter months in Enfield. When snow piles on to your roof, it can not only damage the shingles but create substantial indoor leakage.
Winter ceiling leaks most commonly occur when ice dams form along the ridges of the roof. The bottom layer of snow can melt when heat from the attic rises through the roof. The snowmelt will then flow into the gutters and refreeze, creating ice dams in Enfield.
As this process continues, the snowmelt while back up behind the ice dams and seep into your ceiling and walls, creating significant water damage. The icicles will also increase in size, sometimes pulling off gutters, downspouts, and shingles.
If snowstorms impact your roof, 911 Restoration of Connecticut will make all the structural repairs, as well as conduct thorough water removal procedures to extract any water that might have leaked in during a storm.
The sooner you reach out for water damage restoration in these situations, the better the chances are of minimizing subsequent problems, such as wood rot and mold growth.
Call 911 Restoration of Connecticut as soon as you notice water stains on your ceilings or walls. We will implement advanced water removal and drying practices to make your property sound once again.
A Successful Water Mitigation Job Requires Optimal Customer Service
911 Restoration of Connecticut wants nothing more but to keep you safe throughout the water damage restoration process. Our staff puts customer service at the forefront of everything we do, ensuring your wellbeing during the water mitigation.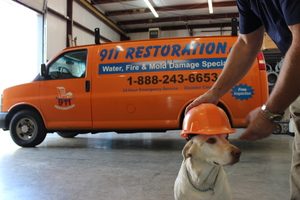 Our on-site technicians will continuously check-in, keeping you informed of the water cleanup efforts every step of the way.
However, our customer care is not limited to water extraction information. We will help you with the financial side of the recovery process, as well. To make things as easy as possible, our staff will file your claim for you and directly bill your insurance provider.
If you need assistance filing your insurance claim, a staff member will provide you with a free insurance consultation. We want to help you receive the most financial help from your insurance provider. The more information it has, the more coverage you'll get.
Our repair techs will get your insurance company the necessary information by helping you take inventory of your losses. By submitting an itemized list of the damages along with your claim, you will keep your out of pocket expenses as low as possible.
911 Restoration of Connecticut aims to make affordable, high-quality water extractions available to the whole Enfield community. So, call our professionals the moment you need leak or flood restoration. We will show you that a Fresh Start is possible today!
Servicing the cities of Abington, Ansonia, Ashford, Beacon Falls, Berlin, Bethany, Bethel, Bloomfield, Branford, Bridgeport, Bristol, Brookfield, Cheshire, Clinton, Cos Cob, Connecticut, Danbury, Darien, Derby, Durham, East Glastonbury, East Haven, East Hartford, Easton, Enfield, Fairfield, Farmington, Georgetown, Glastonbury, Greenwich, Groton, Guilford, Hamden, Hartford, Hawleyville, Madison, Manchester, Meriden, Middlebury, Middlefield, Middletown, Milford, Monroe, Montville, Naugatuck, New Britain, New Canaan, New Fairfield, New Hartford, New Haven, New London, New Milford, Newtown, North Branford, Northford, North Haven, Norwalk, Norwich, Old Greenwich, Orange, Oxford, Plainville, Plantsville, Plymouth, Prospect, Redding, Redding Center, Ridgefield, Riverside, Rocky Hill, Sandy Hook, Shelton, Sherman, Simsbury, Southbury, Southington, Southport, South Windsor, Stamford, Stratford, Terryville, Thomaston, Torrington, Trumbull, Vernon Rockville, Wallingford, Waterbury, Waterford, Watertown, West Hartford, West Haven, Weston, Westport, Wethersfield, Wilton, Winchester, Windham, Windsor, Wolcott, Woodbridge, Woodbury, and the surrounding areas.