Water Damage in Hartford
Hartford's humid continental climate generates severe weather that frequently leads to flooded basements, pipe bursts, and water damage. Winters are cold and snowy, while summers are long, hot, and humid. The annual precipitation is high enough to require year-round property maintenance. 911 Restoration of Connecticut is locally owned and operated by professionals who expertly understand how the weather patterns impact properties in Hartford. Prompt water damage restoration is crucial when dealing with a water disaster. To ensure you receive the best possible care, our technicians are available 24/7/365. Day or night, we guarantee to respond within 24 hours of receiving your call.
911 Restoration of Connecticut will begin recourse quickly in any water damage emergency. We prepare our technicians to conduct same-day flood cleanup in Hartford.
The sooner we implement thorough water removal, drying, and dehumidifying services, the better the chances are of upholding the structural integrity of your property and preventing mold.
You can feel confident in our technicians' ability to completely recover your property from any situation. We employ IICRC certified professionals who are experts at commercial and residential water damage cleaning.
Our repair techs start every restoration job with a free water damage and mold inspection for the property owner. Water and mold go hand-in-hand, making it vital to hire a flood cleanup company that specializes in both issues.
Our technicians will use infrared moisture detection technology to ensure we discover ceiling, wall, and carpet water damage. By providing fast and thorough water removal services, we can significantly minimize mold growth.
Regardless of your situation, you can stay calm, knowing that our highly trained professionals will completely recover your property. So, call 911 Restoration of Connecticut as soon as you need water damage restoration in Hartford. We will show you that a Fresh Start is possible!
Professional Basement Flood Cleanup and Prevention
Flooded basements and pipe bursts are among some of the most common causes of water damage. These situations mostly occur at night, when temperatures are lowest.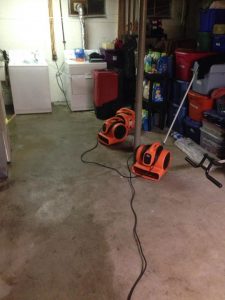 Our repair team is available for 24-hour emergency water cleanup so you can call us the moment you require basement flood cleanup services. As soon as we arrive, we will contain the basement flood and begin the water extraction.
When it comes to professional water mitigation, we are unmatched by any of the other water restoration companies. Along with fixing pipe bursts and flooded basements, we will also help you prevent future water damage issues.
Once the water damage restoration is complete, our technicians can go over ways you can stop the next water damage emergency.
Storms are prevalent in Hartford and can create extensive property damage. Check your roof for cracks and damaged shingles. Make all the necessary repairs before the storm season begins.
Nor' easters and tropical cyclones can generate torrential rain and winds that can create major problems for your home or business. Inspect your landscaping to ensure there aren't any tree branches or outdoor furniture that can crash into your roof or foundation during a major storm.
Take the time to check the plumbing system on your property for any rusting or leaking that might lead to a pipe burst. You may also want to buy insulation sleeves to prevent frozen pipes.
Call 911 Restoration of Hartford when you have questions regarding water removal. Our technicians will get you the flood restoration you need, right when you need it!
Full-Service Water Damage Restoration From a Company that Cares
When it comes to the challenges posed by a water damage scenario, our experts at 911 Restoration Connecticut are the most qualified and capable repair workers for the job.
Not only can we tackle all kinds of water damage, but our staff will assist you with the financial logistics. Our onsite technicians will go over the water damage and mold removal cost once they finish the initial free inspection and estimate.
You will find we provide affordable, high-quality services, as well as accept insurance. If you need help understanding your insurance policy, 911 Restoration offers free insurance consultations.
We always put the customer first. Our staff will prove our customer dedication by consistently going the extra mile, including filing your claim and directly billing your insurance company.
911 Restoration of Connecticut is the go-to source for water restoration services in Hartford. We take pride in the fact that our staff consistently provides an exceptional level of customer service.
We will help you out of any situation, whether dealing with basement floods, ceilings leaks, or mold. So, call our highly trained technicians when you need help from a team that cares and understands what you need today!
Servicing the cities of Abington, Ansonia, Ashford, Beacon Falls, Berlin, Bethany, Bethel, Bloomfield, Branford, Bridgeport, Bristol, Brookfield, Cheshire, Clinton, Cos Cob, Connecticut, Danbury, Darien, Derby, Durham, East Glastonbury, East Haven, East Hartford, Easton, Enfield, Fairfield, Farmington, Georgetown, Glastonbury, Greenwich, Groton, Guilford, Hamden, Hartford, Hawleyville, Madison, Manchester, Meriden, Middlebury, Middlefield, Middletown, Milford, Monroe, Montville, Naugatuck, New Britain, New Canaan, New Fairfield, New Hartford, New Haven, New London, New Milford, Newtown, North Branford, Northford, North Haven, Norwalk, Norwich, Old Greenwich, Orange, Oxford, Plainville, Plantsville, Plymouth, Prospect, Redding, Redding Center, Ridgefield, Riverside, Rocky Hill, Sandy Hook, Shelton, Sherman, Simsbury, Southbury, Southington, Southport, South Windsor, Stamford, Stratford, Terryville, Thomaston, Torrington, Trumbull, Vernon Rockville, Wallingford, Waterbury, Waterford, Watertown, West Hartford, West Haven, Weston, Westport, Wethersfield, Wilton, Winchester, Windham, Windsor, Wolcott, Woodbridge, Woodbury, and the surrounding areas.