Water Damage in Manchester
When you find yourself dealing with a basement flood, ceilings leaks, carpet water damage, or any other water damage emergency, you can depend on 911 Restoration of Connecticut to respond immediately. During circumstances involving water, receiving prompt water damage restoration in Manchester is crucial to your recovery. Our experts are available 24/7/365 to provide professional flood cleanup, so you never have to wait for help. We guarantee an arrival time within 45 minutes for all water emergencies. When water sits for too long, it has the potential to cause structural damage and mold. Our repair techs will provide property owners with thorough water and mold inspections to ensure we find all the damage.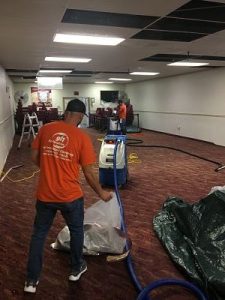 As a locally owned and operated restoration company, our staff members are experts at providing water damage restoration designed specifically for the issues that impact Manchester.
When our technicians arrive, we will conduct same-day water removal and drying services. We understand how the humid Manchester summers can contribute to mold growth, which is why we make such a concerted effort to administer thorough drying and dehumidifying procedures.
You can trust us to tackle any situation, no matter how severe the circumstances. 911 Restoration of Connecticut employs IICRC certified technicians that have reached the highest standards in the industry.
On top of working with certified water restoration professionals, our entire flood cleanup company is licensed, bonded, and insured for your protection. You will have total peace of mind that everything is going to be ok once we arrive on your property.
We provide high-quality, affordable water mitigation, as well as accept all types of insurance. Our staff will guide you through the submissions process every step of the way.
So, call 911 Restoration of Connecticut the moment you experience a water disaster in your home or business. Our highly trained technicians will make sure you receive the Fresh Start you deserve!
Flood Cleanup and Mold Removal Go Hand-in-Hand
Between the humidity and the precipitation, there are many opportunities for homes and businesses in Manchester to experience all kinds of water damage and mold.
Like any other living thing, mold spores need food and water to grow. Spores can live off of organic material found on the property, such as wood, paper, and cotton.
When there is moisture in the environment, mold can begin growing within 24 hours. The only way to minimize the reach of an infestation is to reach out for leak repairs and flood cleanup in Manchester right away.
Our technicians have many years of experience dealing with mold, and we understand the health risks associated with spore inhalation. Mold exposure can cause headaches, breathing issues, coughing, sneezing, and rashes.
Fortunately, we can avert a crisis with water damage restoration services. By focusing on drying and dehumidifying the affected area, our repair techs can stop spores from growing.
Even if there are signs of an infestation during the water removal process, we are ready to administer the necessary mold remediation. Our technicians will use infrared leak detection technology to ensure we discover all traces of hidden moisture that may contribute to future mold growth.
When you need full-service water extraction and mold removal, call 911 Restoration of Connecticut. We will provide comprehensive restoration services that will get your property back to the clean, safe state you deserve!
Customer Service is Integral to Successful Water Damage Restoration
911 Restoration of Connecticut emphasizes customer service on every job. Water damage is challenging, but with the right restoration company on your side, it can be easy.
We have a reputation for acting with professionalism and respect. Your wellbeing is of the utmost importance to us, and we will make an active effort to check-in on you throughout the water cleanup services.
The best way to make you feel at ease about the situation is by giving you as many details as possible about the water restoration. To make this part easy, our office is open around the clock to answer your questions and schedule an appointment.
Our staff will take the lead when dealing with the water damage on your property. You can trust us to help you navigate every aspect of the restoration, including dealing with your insurance company.
If you need help understanding your financial coverage, we will provide you with a free insurance consultation. We know exactly what information your provider needs to get you the coverage you deserve.
Our onsite technicians will assist you in taking inventory of all your losses. Not only will we directly bill your insurance company, but a staff member will file your claim for you. We will make sure your provider receives an itemized list of the damage to your property and belongings.
Day or night, 911 Restoration of Connecticut will be there for you. Call our technicians right when you discover signs of water damage or mold in your home or business. We will show you how we can turn any situation into a Fresh Start!
Servicing the cities of Abington, Ansonia, Ashford, Beacon Falls, Berlin, Bethany, Bethel, Bloomfield, Branford, Bridgeport, Bristol, Brookfield, Cheshire, Clinton, Cos Cob, Connecticut, Danbury, Darien, Derby, Durham, East Glastonbury, East Haven, East Hartford, Easton, Enfield, Fairfield, Farmington, Georgetown, Glastonbury, Greenwich, Groton, Guilford, Hamden, Hartford, Hawleyville, Madison, Manchester, Meriden, Middlebury, Middlefield, Middletown, Milford, Monroe, Montville, Naugatuck, New Britain, New Canaan, New Fairfield, New Hartford, New Haven, New London, New Milford, Newtown, North Branford, Northford, North Haven, Norwalk, Norwich, Old Greenwich, Orange, Oxford, Plainville, Plantsville, Plymouth, Prospect, Redding, Redding Center, Ridgefield, Riverside, Rocky Hill, Sandy Hook, Shelton, Sherman, Simsbury, Southbury, Southington, Southport, South Windsor, Stamford, Stratford, Terryville, Thomaston, Torrington, Trumbull, Vernon Rockville, Wallingford, Waterbury, Waterford, Watertown, West Hartford, West Haven, Weston, Westport, Wethersfield, Wilton, Winchester, Windham, Windsor, Wolcott, Woodbridge, Woodbury, and the surrounding areas.