Water Damage Middlebury, CT
Water damage is a disastrous thing to have to go through, and if it is not treated immediately your home can suffer expensive repairs and damage which is why our 911 Restoration Connecticut company is on-call and available 24/7/365 to send out a certified water damage Middlebury crew to perform fast water extractions.
All of our technicians are capable of restoring structures that suffer from:
Pipe freeze
Toilet overflow
Flooded basement
Roof leaks
Ruptured hoses
Pipe burst
Water damage hits homes and businesses for many reasons and there are multiple causes that account for it.
Our water damage Middlebury team performs the best water damage restoration services in the entire state of Connecticut using the newest restoration techniques and the latest drying technology to eradicate any last sign of moisture and to ensure your property is restored to perfection.
All of our technicians are licensed, bonded, and insured to perform the best water cleanup and restoration services in the industry no matter what. Give our water damage Middlebury restoration experts a call now and we'll even file your water damage claim for you with your carrier!
Water Damage Is Covered by Homeowner's Insurance
So long as the destruction wasn't the direct result of a flood but instead an internal plumbing or mechanical failure, our water damage Middlebury experts state that coverage is practically guaranteed for your water damage claim.
Here are some important points to remember about insurance and water damage: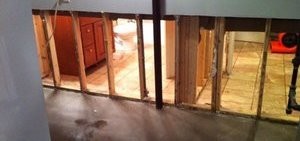 If violent rain storms flood your crawlspace or destroy your roof allowing your home to take on water, you'd more than likely need a supplemental flood insurance policy through a private insurer.
However, if ruptured hoses flood your utility room, you should be covered with no problem.
Our water damage Middlebury experts have consistently working with all of the insurance companies since 1978, so we know how to file a claim quickly and correctly.
We work with all insurance companies to provide you with an affordable price.
Give our water damage Middlebury team with 911 Restoration Connecticut a call when you experience a water damage emergency and when we get to your property we will use the best drying technology available to make sure that no mold can grow from your water damage disaster today!
Water Damage Actually Leads to Mold
Water damage is in fact a leading cause of mold growth in structures across Connecticut, and our water damage Middlebury team responds to all service calls within 45 minutes or less so we can dry and restore your property to prevent  mold growth.
When you have a pipe leak in your walls, or snow melt off leaks through your roof, a moist environment can easily attract the toxic mold spores that can eat through your home.
When our water damage Middlebury team arrives at your home we will perform a free inspection in which we enter tight spaces like in your attic, your crawlspace, and inside your walls.
Our mold detection equipment is so sensitive that if you have had a flood in your home from storm damage or if your basement flooded from a water heater leak our 911 Restoration technicians can detect invisible spores that are in the process of breeding and eliminate them before your family can get sick.
When it comes to the safety of your family inside your home you deserve only the best, so call our water damage Middlebury team with 911 Restoration Connecticut for fast and affordable service that can't be beat today!