Water Damage Middletown, CT
Water damage is a dangerous threat that presents numerous health risks, ranging from disease to rashes, so it should only be handled by our 911 Restoration Connecticut and water damage Middletown crew with the latest drying technology.
We are licensed, insured, and bonded to keep everyone safe after a pipe burst or toilet overflow.
Do not attempt amateur drying and clean up, as this can make matters worse as well as leave behind enough unseen moisture to spawn mold.
Therefore, call our water damage Middletown team for all water damage restoration services and we will provide professional water extractions.
We are fast, professionals, and always put the customer first to make sure you get the best water removal. Our free inspection to find mold will ensure safety in your home after the worst disasters.
With same day service and technicians who are available 24/7/365 availability, our water damage Middletown experts can get to your property disaster quickly to provide the best in disaster restoration services.
Contact 911 Restoration Connecticut when you need the best water damage company to handle water repairs and your insurance paperwork.
Water Damage Experts Provide the Best Services
911 Restoration is the best water damage Middletown company because we know the trauma associated with the event. When a minor plumbing leak turns into a major flood, contact our water damage Middletown professionals to help you recover in the wake of a water damage emergency with same day service disaster restoration services.
Here are some specifics of water damage in Middletown:
Located in the southernmost part of Middlesex County, Middletown is a beautiful Connecticut suburb with a rich history that dates all the way back to 1650.
Any property built before 1950 should have its plumbing replaced to reduce the chances of a pipe burst. Sitting at sea-level along the Connecticut River, Middletown was once a busy sailing port and has become an industrialized college town with a population of around 48,000.
The city's modest downtown skyline sits directly on the bank of the Connecticut River and is bordered by the Coginchaug River to the west. For these reasons, rising water can cause significant damage.
Middletown's elevation at or near sea level makes high water levels a particular type of water damage you are at risk for, but our water damage Middletown experts see flooding from old pipe bursts or improper insulation more often.
While such incidents may seem minor, excess water can often seep through surfaces and into crawl spaces and subfloors, leading to mold and dry rot that can cause both structural and health risks in the long term.
When in doubt, the best course of action is to call our water damage Middletown specialists with 911 Restoration Connecticut for a fresh start today!
Water Damage Restoration Details and Specifics
Call our water damage Middletown specialists for water restoration and we will respond within an hour to start pumping water from your home. Most importantly, we will inform you of ways to prevent future floods.
There are several measures that can be taken to prevent of flooding, especially when plumbing is the main issue. Insulating your plumbing, installing a sewage back flow valve, and testing sump pumps are the best ways to ensure your water line will not flood your basement.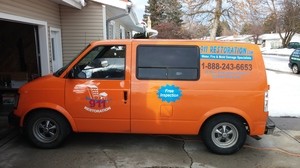 In regard to storms, clean out your rain gutters and make sure your downspouts are pointed away from your home. Often minor updates to your plumbing and drainage can prevent a minor incident from becoming a major problem in the future.
Our water damage Middletown technicians are happy to save you from the risk of flooding. Call us today; we are available 24/7 and have over 35 years of experience.
When you call 911 Restoration Middletown, we walk you through how to turn off your utilities, such as your water line and electricity to limit the amount of damage happening in your home.
Our water damage Middletown staff are prepared for any disaster, no matter how bad the fire sprinkler malfunction or rain leaks are.
Call our water damage Middletown team with 911 Restoration Connecticut when your property floods and we will even file your homeowner's insurance claim to make sure you get the most from your water damage coverage today!