Water Damage Milford
Water damage restoration comes into play when floods damage buildings, and 911 Restoration Connecticut is the best company for the job because we are licensed, insured, and bonded to restore houses after the most challenging disasters.
Aside from the winter preparations, there are a few steps you want to take for year round security. 911 Restoration Connecticut recommends you:
Clean rain gutters and downspouts. Whether there is ice or leaves in your precipitation drain system, it could cause catastrophic damage. For instance, an ice dam that grows to heavy, will collapse your rain gutters. Leaves in the gutters will force moisture on to your roof, where leaks are more likely to occur.
Replace water based appliances every 10 years. Water heaters, dishwashers, laundry machines, and the rest of your kitchen appliances have always been meant to last no more than a decade. If you do not replace them, or at the very least repair the water lines, ruptured hoses will likely result.
Request a biannual inspection. You will need a professional to look at your window seals, doorjambs, and the rest of your property to check for mold and leaks in the exterior of your home. Many times a positive inspection will result in a lower homeowner's insurance fee.
It is vital you make the call quickly to ensure minimal damage to your property. We respond within 45 minutes to provide same day service to every home in the city.
If your home is already amid a flooding crisis, then don't wait another minute to contact our water damage Milford team with 911 Restoration Connecticut for all the best restoration services today!
How to Prevent Water Damage in Milford
Milford, Connecticut is unique in flood prevention maintenance because the sources of potential water damage abound. Being in the northern portion of the United States, there are specific chores you need to complete to help your home against winter weather.
Insulate your plumbing. This will keep your pipes warm and reduce the chances of freezing during winter lows.
Run your heater. You want to keep your heater on throughout the winter for the same reason you insulate the water line. Retaining warmth in these elements is vital to avoiding a pipe burst.
Turn off your water main when on vacation. There are many disasters that could befall your property while you are away, and as the moisture sits unabated in your house, it promotes mold growth and other similar toxins. Turning off the water line before you leave means there will not be a steady source for the flood to grow. Therefore, the damage will be minimal.
Winter weather is responsible for many water damage restoration Milford jobs that 911 Restoration has undertaken. We are able to make your property better than it was originally after the most difficult challenges.
If the inspection turns up any property damage, or if one of your appliances fails, call our water damage restoration Milford technicians. We are available 24/7/365 to provide you with a fresh start.
Water Damage Restoration in Milford
Our water damage restoration Milford experts were called by a customer whose sink overflowed, damaging the floor in the garage where it was located and seeping into the house, under the floorboards, and into the basement.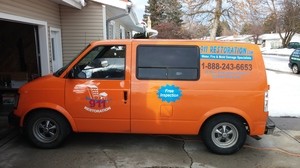 The extensive water damage flooded the carpets, soiled the walls behind hung mirrors in the finished basement, and spawned mold throughout the room.
The fungus can grow in 24 hours and takes over a room in less than a week, which is why we offer water removal and mold remediation services at one affordable price.
We work directly with the homeowner's insurance company; however this customer wanted to pay out of pocket. We made sure to provide her with the least expensive, yet most efficient water damage restoration Milford services.
By the time we were finished, the basement was exactly what she wanted. We will be happy to serve you in the same way, removing mold, replacing carpet, and resolving all challenges presented by the leak.
Call our water damage Milford experts with 911 Restoration Connecticut and our professionals will provide you with all of your rejuvenation needs and a fresh start today!