Water Damage Newtown, CT
Water damage is a disastrous force that should be dealt with immediately upon discovery which is exactly why 911 Restoration Connecticut and our water damage Newton company is available around the clock and available 24/7/365, ready to perform emergency water extractions with little to no notice.
Water damage can quickly destroy your home. According to research, your home's concrete, brick and wood can begin absorbing excess water literally within minutes.
When this happens your house's materials can warp, rot and even structural damage can set it. When our water damage Newtown technicians perform water damage restoration services we do so with the most comprehensive methods as well as the latest drying technology to eradicate every last drop of moisture from your carpets, walls and flood.
Our water damage Newtown specialists care a great deal for this special community. Newtown is an ideal place to call home for families who love recreational activities and spending time in nature.
Newtown offers a plethora of parks, fields, and playgrounds as well as facilities for playing volleyball, tennis, baseball, soccer and it boasts some gorgeous hiking trails.
When our water damage Newtown experts set out to offer water clean up services we reflect on the fact that this is a special community and we ensure the quality of the work we perform does this town justice.
Whether you have a plumbing disaster like a pipe burst or a rain storm causes your roof to leak, call our water damage Newtown specialists and let us file your water damage claim with your carrier for you today!
Homeowner's Insurance Coverage and Water Damage
Our water damage Newtown team has years of experience working with all homeowner's insurance companies, and in this time we have noted that most major policies cover the majority of non-flood related or negligent types of water damage.
Some of the most common causes for water damage that we've seen include:
Pipe Burst
Toilet Overflow
Ruptured hoses
Water heater leak
Fire sprinkler malfunctions
Rain storms
Washer burst
As an insured party you are responsible for preventing water damage by making sure your home is properly maintained.
If your roof has missing or damaged shingles, your gutters and downspouts are broken, your sump pumps are damaged and your cast iron plumbing is 100 years old and rusting, any water damage pointing to these causes would likely be covered.
Furthermore, floods from inclement weather are also seldom covered. According to data from the Insurance Information Institute, water damage caused by flooding will only be covered by a supplemental policy or through the National Flood Insurance Program.
Our water damage Newton crew encourages homeowners to really know their policy forwards and back.
In the event you succumb to a water damage problem and your insurance denies your claim, relax, 911 Restoration Connecticut will give present you with a cost on water damage repairs that will make you smile today!
Costs Associated with Water Damage Repairs
When you partner with our water damage Newtown team we go above and beyond to ensure you have a low cost for water damage repair work and services.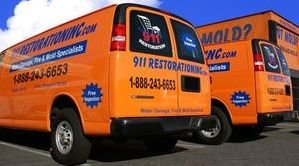 We accomplish this in two primary ways: we start by offering a free inspection in which we diagnose the cause, calculate the job, and we give you a quote so that you can rest assured knowing that no hidden charges will slap you in the face.
We also work directly with your insurance company and fight to get every cent covered.
We put value in things like professionalism and we strive to always put the customer first meaning that we offer affordable rates on all of our restoration services.
Finally, we work extremely close with the town of Newtown to ensure all residents and businesses are safe in the event of a flood or other disasters.
We respond within 45 minutes to every service call because we know how time sensitive water damage disasters are, and our 911 Restoration team will stop at nothing to protect your home and family.
Give our water damage Newtown technicians with 911 Restoration Connecticut a call and we'll restore your home so it looks even better than before today!