Water Damage Prospect
Water Damage Prospect
Water damage causes millions of dollars in repairs to homes across America every year but with  911 Restoration Connecticut and our technicins available 24/7/365 to tackle even the largest water removal jobs you can rest assured knowing that your back is covered.
Our water damage Prospect team has been on the job since 1978 and we have seen it all.
From storms sending water under your door to ruptured hoses flooding your laundry room, we have been providing top rated water damage restoration services to remediate the damage regardless of the source.
We feel especially privileged to protect the homes and businesses in our special community.
With its small town charm sitting right in the heart of New Haven County, Prospect draws homeowners who enjoy the quiet life and our water damage Prospect team wants to keep the peace intact by responding to emergencies with our water extractions equipment right away.
We have years of experience offering a plethora of restoration services, so call us and we will fix any problem you might have in your home or office today!
What Kinds of Problems Can 911 Restoration Help With?
911 Restoration Connecticut offers all the major restoration services, and our water damage Prospect team specializes in flood repair, plumbing issues, mold removal and sewage cleanup.
Here are some forms of water damage we alleviate:
Water damage comes in many guises but we are licensed, insured and bonded to repair any damage you may incur. Water damage restoration is our specialty, and home floods are often associated with the elements of weather or plumbing failures.
Prospect has its fair share of heavy rain, which can result in flooding that precipitates rising flood waters and the risk for flash floods.
Heavy rain is also notorious for causing roof leaks, and when you learn more about 911 Restoration Connecticut you will discover that we are experts in restoring any damage caused by a leaking roof.
A toilet overflow, washer burst or water heater leak can also result in flooding that can disrupt your life.
Equipped with state-of-the-art tools, our water damage Prospect team will quickly rectify plumbing failures and we perform thorough water extractions using the latest drying technology to completely eliminate moisture.
Call us for any water damage problem big or small, and before we leave we will teach you how to prevent water damage from happening a second time around today!
Preventing Water Damage is Easy

You can prevent water damage by performing preventative measures like sandbagging your property when a storm is predicted, and our water damage Prospect team is standing by if you need us despite your best efforts.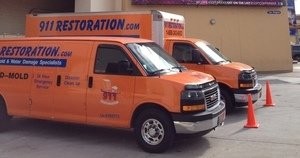 Sandbags act as a retaining wall against rising flood water and will minimize the amount of water that gets into your home.
You would also be wise to install sump pumps in your basement and crawl space to keep as much water out as possible. Finally, don't neglect your gutters and downspout!
They must be cleaned from debris at all times and in good working order; otherwise roof leaks can occur and water can run down the side of your house into the foundation.
Don't ignore any signs of water damage as this will only allow the loss to escalate.Call our water damage Prospect team with 911 Restoration Connecticut for a free inspection and work with the best water cleanup company around today!