Water Damage Redding, CT
Water damage is a destructive force of nature that is often avoidable in areas prone to harsh weather like Redding, which is why the need for a professional, high-quality water damage restoration company like 911 Restoration Connecticut is so crucial.
At 911 Restoration, our water damage Redding specialists understand the unique needs of this small but thriving community and are here to handle your specific water damage emergency fast. Some of the common water damage restoration problems our technicians see in the area are:
Ceiling leaks
Pipe bursts
Pipe freezes
Broken water heaters
Mold remediation
Sewage backup issues
Toilet overflow
Flooded basements
Redding, Connecticut is a relatively small town located in Fairfield County. Big on charm and hospitality, the town has twice been named one of the best cities in all of America to live.
Unfortunately, its geography in the Northeast means that the community and its citizens have suffered some of the worst natural disasters in history, from heavy blizzards and floods to extensive damage caused by recent Hurricane Sandy.
With a lightning quick response time of within 45 minutes or less, you and your family can rest easily knowing that trained professionals will be at your door fixing your problem in no time.
So don't wait for the next thunderstorm or nor'easter to flood your home or basement, call our water damage Redding experts with 911 Restoration Connecticut for help today!
Basement Flooding Advice and Prevention

A flooded basement in Redding is not only a common problem but also a very serious one, as untreated water damage has the potential to cause mold and mildew, which is why you should immediately shut off your main water line if the flood is originating from inside your home.
Avoiding issues like mold and mildew will not only protect your family's health, but also protect your investment.
After that step, give our water damage Redding team a call so we can walk you through additional steps to take, such as:
Turning off the power to the area
Moving furniture and valuables to avoid mold growth
Unplugging appliances from outlets if safe
Eliminating belongings from the affected area
We value your home like you do, which is why we'll be at your door fast, ready to completely eradicate any and all signs of water damage and mold.
It's important that the problem is handled by trained professionals because in some cases, water damage and resulting mold growth is not covered by insurance so give us a call today so we can get started on the job!
Water Damage Restoration Specialists

911 Restoration Connecticut is the best water damage company in Redding because of our commitment to put the specific needs of our customers and their community first.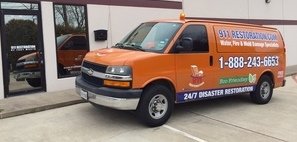 Our water damage Redding technicians have the experience, over 35 years in fact, to handle any of these tough water damage issues with both speed and ease.
With years of experiencing servicing cold, wet areas in the Northeast like the wonderful city of Redding, our water damage Redding specialists are uniquely qualified to handle all of your water damage restoration needs, and fast.
By providing our Redding customers with some of the best benefits in the business, including technicians who are available 24/7/365 and a response time of within 45 minutes to all calls, we've been able to ensure that the inside of homes in the area remain a reflection of the outside beauty of the city.
So for a fresh start for you and your family after even the worst water-related emergency, give our water damage Redding team with 911 Restoration Connecticut a call today!