Water Damage Simsbury
If your home becomes overrun with floodwater than you can contact our water damage Simsbury techs at 911 Restoration Connecticut and they will pump out all the moisture and get your home fixed up again in no time.
We are trained to administer same day services for all water disasters including the following techniques:
Toilet overflow sanitization

Pipe bursts remediation

Washer hose bursts correction

Mold infestation clean up

Water heater leak repair

Fire sprinkler malfunction restoration

Flooded basement water removal
It is imperative to the recovery of your home to act quickly during emergencies, so we stay available 24/7/365 in order to get water damage Simsbury experts to your property within 45 minutes or less.
Our operation wants to be there for you during this vulnerable time, so call us the moment you discover unwanted moisture on your property and we will conduct a free home inspection.
Keep Your Sump Pump In Tact To Prevent Flooding
Our water damage Simsbury unit knows that the best defense against flooding is by installing a sump pumps in the areas of your home that are most susceptible to filling up with water, such as your basement.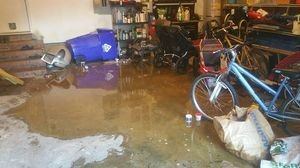 There is more that goes into to maintaining this piece of equipment than just installing it and turning it on. It needs to be inspected and cleaning annually before the winter months roll in to make sure that everything is working properly.
Although sump pumps are hardy machines, if they are exposed to cold enough temperatures they can freeze up.
On the occasion that your sump pump malfunctions and you are experiencing invading water, then your basement can flood, ruining everything in the area. You can prevent this type of water disaster from occurring by checking the sump pump and the pit.
Keep your sump pump working for you, not against you, and keep it working in full swing all year round. Call our water damage Simsbury staff and we will help you with any water emergency today.
We Can Help You Find Your Way Out Of A Flood
Having access to the proper guidance is crucial to achieving a successful home restoration process. Our water damage Simsbury professionals stay accessible to homeowners around the clock, that way we can answer any questions you may have about the work being done on your property.

We can even help you with understanding your insurance policy.
It can be confusing when you are trying to figure out what is and what is not covered, but our water damage Simsbury team can guide you through it all.
In fact, we can file your insurance claim for you on your behalf, saving you the time and hassle.
Call our water damage Simsbury team with 911 Restoration Connecticut when you need assistance getting affordable flood and leak damage restoration services and we will be there for you as soon as possible today!