Water Damage South Windsor
Faulty water-using appliances can be major sources of flooding and leakage, something our water damage South Windsor specialists at 911 Restoration Connecticut know a lot about.
We have many years of experience in the home restoration industry, so you can count on us to help you recover from any water issue you may find yourself dealing with.
Our water damage South Windsor pros are IICRC certified to mitigate all causes of flooding, such as:
Washing machine leaks

Ruptured hoses

Leaking ice machines and other refrigerator issues

Storm and other water-based disaster damage

Sewage backups

Fire sprinkler malfunction

Pipe bursts and other plumbing issues

Flooded basements

Crawlspace condensation

Sink, toilet and bathtub overflows

Clogged gutters and downspouts

Roof and ceiling leaks
We guarantee to arrive on the scene within 45 minutes and will begin implementing same day services, starting with a free home inspection.
You can trust us to get the job done right the first time around, so call us today and you will find that your home will be looking beautiful again in no time.
Stop Your Washing Machine From Causing A Leak In Your Home
You washing machine is basically a mechanism for flooding, if it is not maintained properly. This flooding mainly occurs if the supply hoses that attaches the washing machine to the water line, ruptures, causing gallons of water to explode into your home.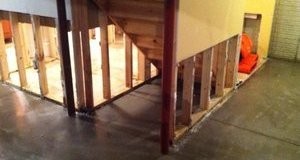 This can be especially damaging if you are away from the home or sleeping when this occurs, since standing water can cause structural damage and facilitate mold growth.
These rubber hoses should be inspected annually and replaced every 5 years, since by that amount of time the rubber will begin to deteriorate.
It is important to catch a rupture before it happens, instead of replacing the hoses after the leak has already taken place.
Call our water damage South Windsor remediation workers today and we will make sure your appliances and home are in tip top shape.
Our Water Damage Pros Will Keep You Safe The Entire Way Through
Providing you with ideal customer service is a goal our water damage South Windsor crew constantly strives to meet. We understand the burden that dealing with water damage can implement on the family, and we want to be the ones to take on that load.
In order to calm your worries about the renovations process, our water damage South Windsor unit stays available 24/7/365, so we can answer any questions you may have.
This includes any concerns about your insurance policy.
We will go over everything with you, even going as far as filing your claim for you.
Ensuring that your out of pocket expenses stay low is important to us, so call our water damage South Windsor team with 911 Restoration Connecticut and we will help you obtain affordable flood damage repair services today!