Water Damage Southbury, CT
Water Damage Southbury, CT
Walking down into your basement only to find a few inches of water is a shocking experience, and if this happens to you then you will need the expertise of our water damage Southbury team with 911 Restoration Connecticut today. You may not know what to do right away.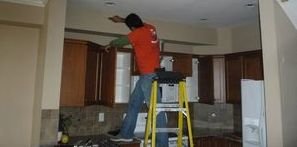 Fortunately, our water damage Southbury experts can help, drawing on our years of experience in the disaster restoration business. After calling 911 Restoration Connecticut, you can expect a response within 45 minutes.
Before that, do what you can to mitigate the damage, which involves shutting off the main water line, checking windows and doors in the area for leaks, moving furniture and debris out of the way, and instructing little ones to keep away from the water.
If you don't have one, get a sump pump as well as a sewage backflow valve to ensure no backups happen in the future. Check to ensure your gutters are clear and working as they should.
The pride in this community is clearly evident, and maintaining the pride in your home and neighborhood is important in a town like Southbury.
That's why any challenge you experience should be addressed by our water damage Southbury professionals with 911 Restoration Connecticut right away to keep up the structural integrity of your home, so give us a call today!
Water Damage Restoration and Flooding Specifics

Our services are far-reaching and designed to get you back to normal as soon as possible. Offering free inspections and same-day service, you can count on our professional water damage Southbury technicians.
Here are some of our other offerings:
Water damage restoration
Carpet drying
Wood floor restoration
Water extraction, repair and removal
Flood clean up
Mold remediation
We are proud of the value we place on professionalism and always put you first no matter what. From toilet overflows and sewage clean up to basement flood cleanup and drying, we do it all.
Don't let your home fall victim to the effects of a water invasion of any kind alone. Contact our water damage restoration Southbury team with 911 Restoration Connecticut for immediate relief today!
Flooding and Water Restoration from the Best

When you hire us, you can relax with our licensed, bonded and insured water damage Southbury company that offers prices that are competitive within the community.

Don't let water accumulate, as it can sprout mold over time and lead to damage within the structure of your home.
Call us right away and we'll address the situation immediately. You'll love the convenience of our 24-hour availability and free inspections.
Our staff works directly with any insurance company to make sure your out of pocket expenses are as low as possible.
Rest assured knowing that you have the greatest team of water damage Southbury professionals on your side to pull you through a stressful situation.
If your office park, home, or any other place you love is filling with water, then contact our water damage Southbury team with 911 Restoration Connecticut for help today!