Water Damage in Thomaston
When you live in Thomaston, it is not a matter of if water damage is going to affect your property, but instead, it's when will you be affected. Living in an area so susceptible to severe weather makes it crucial to have a restoration company you can trust to help you the moment a disaster strikes, which is precisely why 911 Restoration of Connecticut is available 24/7/365. When property owners need immediate water damage restoration in Thomaston, they can expect our repair techs to be at their home or business within 45 minutes. Technicians emphasize the importance of prompt response times when it comes to implementing flood cleanup services because the more prolonged moisture sits on the surfaces of your property, the more damage it will do. Leak and flood damage is often the cause of mold, rot, and structural issues that are sometimes unavoidable even with the most speedy water mitigation. However, 911 Restoration of Connecticut is qualified to administer water removal, mold remediation, and any other restoration service you could possibly need.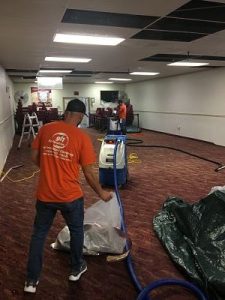 Technicians understand that when water has invaded your home or business, there is no time to waste. To get the flood cleanup process started, repair techs will give property owners a free visual inspection where they will determine the extent of the damage and provide an estimate.
If you are experiencing an emergency that is actively flooding your property, such as a pipe burst, roof leak, or sewage overflow, then technicians will administer same-day, commercial or residential water damage cleaning services.
We want customers always to feel confident in our ability to restore their property, which is why we have worked hard over the years to be as qualified as possible. The entire organization is backed by the Institute of Cleaning, Restoration, and Inspection and has earned its IICRC certification.
911 Restoration of Connecticut is also licensed, bonded, and insured so customers can feel completely protected when they work with our technicians. Making you feel safe and secure under our care is always our top priority.
Staff members want the Thomaston community to know they are available around-the-clock to provide help to make it as easy as possible for everyone to receive the water damage restoration they need.
911 Restoration of Connecticut is trained to remediate all kinds of water damage. So, call the technicians when you need any restoration work, whether it be sewage removal, flood restoration, or basement water removal service, and they will give you the peace of mind you deserve!
A Flood Cleanup Company That Specializes In Mold Removal
Even if you are proactive in keeping your property maintenance up-to-date, there are still going to be inevitable incidents. When you find yourself in this situation, you can turn to 911 Restoration of Connecticut
The quicker you get technicians to your property, the better the chances are that they will be able to fully restore your home or business from both water damage and mold.
Mold is the most common byproduct of water damage and can start growing within 24 hours of being exposed to moisture. Inhaling mold spores can cause people to experience health issues, which is why professional water extraction is vital.
911 Restoration of Connecticut has decades of experience eradicating mold from all types of homes and businesses. The technicians know exactly where to look when they arrive on the scene, especially since mold tends to live in places where it is the most hidden.
As mentioned before, mold can cause everyone exposed to it to begin to experience health issues, which are usually are experienced as allergy-like symptoms, but they can potentially be as severe as respiratory issues.
Your health is the most important thing to 911 Restoration of Connecticut, which is why repair techs administer immediate water damage restoration to avoid a mold infestation in the first place.  
Technicians understand that in these situations mold removal and water damage restoration are absolutely necessary. So, if there is already mold on walls and other surfaces when they arrive, you can rest assured they will thoroughly eradicate the infestation.
Unlike other water restoration companies, 911 Restoration of Connecticut knows exactly what services customers need. So, call us today to receive help from a team that cares and understands your needs.
Customers Receive Free Insurance Consultations For Water Damages
911 Restoration of Connecticut keeps customer service their main priority, and technicians will do whatever they can to make you feel comfortable the entire time we are on the job.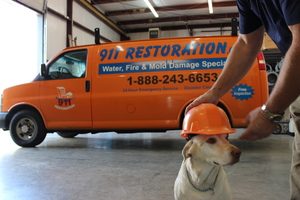 Staff members will guide you through the entire process, answering all your questions along the way. Most people want to know about the water damage restoration cost per square foot and whether or not insurance will cover the expenses.
Our flood cleanup company consistently offers affordable prices and accepts all types of insurance. To ensure customers that they are getting the most out of their insurance policies, we provide free insurance consultations.
A staff member will go over your insurance policy with you to determine what coverages you are entitled to receive, as well as file your insurance claim for you.
By allowing us to file your claim, you will be sure that you have the best chances at getting full coverage from your insurance provider. From submitting the paperwork, communicating with your representative, and following up on the status of the claim, we will do it all.
This restoration company wants to help you get the financial aid you deserve. So, call 911 Restoration of Connecticut when you need water damage restoration in Thomaston, and you will receive the Fresh Start you deserve!