Water Damage Westport
If you find yourself suddenly dealing with a pipe burst in your home, you can call the water damage Westport water cleanup techs at 911 Restoration Connecticut, and we will be able to provide you with help within 45 minutes of receiving your emergency call.
We take all water related issues very seriously and we never want to make you wait for assistance. In order to fulfill these needs, we keep our office available 24/7/365, making it possible for you to contact us literally any time.
Our Westport floodwater cleanup operation always brings their high-tech gear to every job they are called to, offering homeowners same day services to start pumping out water and drying the premises.
The longer moisture stays on the property the more damage it can cause, such as rotting wood, rusting materials and causing mold and fungus to grow.
In order to get this renovation process started, call our Westport water extraction experts and we will provide you with a free home inspection today!

Protect Your Home's Foundation Against Water Damage
If anything goes wrong with your home's foundation walls, such as major cracks and uneven ground settling, then you could be facing a very expensive flooding situation as soon as the rain comes in.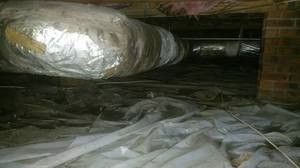 The Westport flood cleanup members recommend that homeowners annually check the soil around your house to make sure that it slopes away from your foundation by at least 10  and a half feet.
You should also check that your rain gutter downspouts extend at least 5 feet away from the home.
This kind of slope keeps water from pooling right next to your foundation, where it could create the walls of your basement to lean, crack the masonry, and cause floods and leaks.
If your house has a crawl spaces, then keeping the water away stops excess water from accumulating underneath the floor boards, causing mold and rot.
The implementation of hydrostatic pressure will cause your foundation to settle, which can easily crack your basement walls. When this occurs then you will be in need of a full excavation to stabilize, repair, and reseal the walls.
Call our Westport water disaster agents today and we will help remediate any issues you may be having with the foundation of your property.
You Can Count On Us To Walk You Through The Waves Of Water Damage
After you have been through a water emergency, it is important that you have a support system that you can trust, which is exactly what our Westport flood damage restoration technicians will provide you with.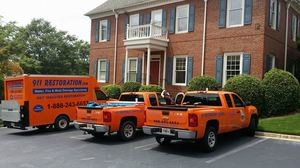 Customer service is something we take very seriously, and we hold ourselves up to the highest of standards.
Our Westport plumbing unit wants you to feel taken care of when we arrive and we hope that as soon as we get on the scene you can feel a sense of security.
We will help you with everything, from the complete renovation of your home to assisting you with your insurance claim. In fact, we will complete the whole thing for you, submitting all the information needed to get you proper coverage.
Call our water damage Westport experts with 911 Restoration Connecticut and we will work hard to get you the most affordable prices in town today!