Who Are Hoarding Specialists? How Do They Help After a Disaster?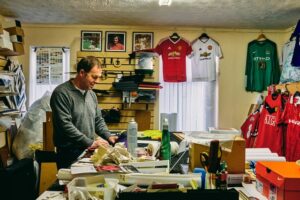 If you have noticed the clutter inside your home growing over the years, there may be a serious problem. Indeed dealing with a loved one's hoarding problem is not easy because they might not understand your perception and inconvenience caused. Nonetheless, it is crucial to fix the problem before putting your home's and family's safety at risk. Living in a cluttered place can make cleaning difficult, exposing you and your loved ones to the risk of health problems caused by unhygienic living conditions.
Moreover, when small spaces like apartments and townhouses are cluttered, you may never be able to inspect and maintain your home properly, much needed to keep an eye on potential water leaks or lighting or electrical issues. Your inability to identify and address such problems can further result in serious water and fire damage. This can further lead to unplanned repairs and restoration work. Although prevention is the best way to avoid fire and water damage, in case they occur, contact a reliable home restoration company like us. At 911 Restoration of Connecticut, we will be at your service in less than 45 minutes. Our team will come equipped to help you with cleanup and restoration work to your complete satisfaction. Our goal is to restore your home to its livable condition in the fastest possible time.
Being home restoration experts, we can assist you with all types of restoration work after a disaster strike for whatever reason. We can be your hoarding specialists when you need us the most because we start from deep cleaning first, followed by restoration work.
Who Are Hoarding Specialists?
A hoarding specialist assists with a deep cleaning project. They ensure that the project is respectfully and efficiently completed. A hoarding specialist works intimately with the individual with the hoarding disorder supporting and guiding them through the de-cluttering process.
A hoarding disorder is triggered by the constant difficulty of throwing or discarding belongings of any type, even when they are not needed or are of any value. Excessive accumulation of things in the house must be addressed as it can lead to severe disasters, which many hoarders don't realize unless costly damages are done.
Getting rid of accumulated items may be a problem. It is best to consult a therapist who can help your loved one understand they have an issue and navigate them through how to get rid of the clutter safely by organizing a deep cleanup.
How Does a Hoarding Specialist Help After a Disaster?
A hoarding specialist ensures that discarded objects are sorted out carefully during the cleaning process. This ensures the owner that their valuables and keepsakes are actually of high value are not displaced or dumped in the process.
The cleanup project begins by categorizing objects into groups. Some items are disposed of, while others are kept for donations. Items that pose health risks or risks to the property are discarded in conformance with the OSHA regulations. This includes things like:
Soiled materials
Spoiled boxes
Containers
Wrappers
Rotten food
Hazardous items
When the biohazard cleaning process is underway, all hoarded items that expose homeowners to life-threatening risk or their environment are disposed of responsibly.
The next step is to assist homeowners with picking items that they don't need but can be donated. Hoarding specialists ask homeowners to select a charitable cause and then sort things for donations.
Moreover, after a disaster like fire or water damage, hazardous or other items already of no value and are not wet or burned must be disposed of as soon as possible. Allow our specialist team at 911 Restoration of Connecticut to work by your side for a deep cleanup and restoration job. Our home restoration experts can help you sort, discard and dispose of damaged items as needed.
Once our home damage restoration team organizes and sorts things out, we will carry a deep cleaning and sanitation process and restoration work after a disaster. These steps are crucial to ensure your home is spotlessly clean and all damages caused by a fire or water damage are repaired and restored to your complete satisfaction.
Our team also performs mold remediation if the hoarding deep clean was scheduled because of water damage. This step is helpful because unaddressed water leaks in nooks and corners can lead to mold, mildew growth, and infestation. It can further lower the indoor air quality putting your family at risk of health problems like asthma, allergies, and breathing issues. Therefore, when performing a deep cleanup job, we treat mold infestation, ensuring the air quality of your home is healthy and doesn't pose any health risks to you or your loved ones.
At 911 Restoration of Connecticut, we aim to deep clean and restore your home in a livable condition after a disaster and like a clean slate, allowing your family to start over in a safe, sanitary, and de-cluttered home where you can make good memories.