The Blizzard of 1888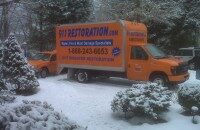 The Blizzard of 1888 was an extreme snowstorm that hit the northeastern part of the United States. Connecticut was especially affected by the storm. The storm dumped between 20 and 50 inches of snow in Connecticut and combined with strong winds, the state was faced with 20 foot high snow drifts. New Haven, Connecticut dealt with 31 inches of snowfall in just 24 hours. By the end of the storm the city was under nearly 45 inches of snow.
Transportation such as railroad services had to be halted to Connecticut during the storm and businesses that were normally open everyday had to be closed down for its duration. Many individuals were stuck in their homes with no way to get out.
Throughout the northeastern states approximately $20 million dollars of damage was done to homes from the storm and over 400 individuals lost their lives during the Blizzard of 1888. In order to avoid deaths and extensive damages during storms such as blizzards proper preparedness is necessary. With a few tips, you can be much safer during times of extreme snow storms.
Understand The Different Types Of Watches And Warnings
The first step in being properly prepared for winter weather is to know the difference between the various official weather watches and warnings. A Winter Storm Outlook lets individuals know there is winter weather expected in their area in the next two to five days. A Winter Weather Advisory warns individuals that winter weather conditions are expected to cause hazardous inconveniences and to exercise caution. A Winter Storm Watch lets individuals know that winter storm conditions are expected in the next one to two days. A Winter Storm Warning warns individuals that life threatening winter storm conditions are currently happening and precautions to prevent harm should be taken.
Ensure Your Home Is Winterized
A winterized home helps keep individuals safe during winter weather. If you haven't taken the precaution of installing storm windows, plastic should be placed over the windows in the home to help with insulation. All heating equipment in your house, from the chimneys to fireplaces, should be properly cleaned and maintained to ensure they will work when needed. The heat should ideally be kept on at all times during winter weather and set at no lower than 55 degrees Fahrenheit.
Have A Supply Kit
Along with understanding the different watches and warnings and winterizing a home, a supply kit can also be a lifesaver during winter storms. A supply kit should have a couple days worth of water, non-perishable food, extra sets of batteries, an emergency first aid kit, personal hygiene items, a working cell phone with a backup battery, emergency money, family contact information, pet supplies, tools, and warm clothing. These types of items can help save lives in times of emergency.
The Blizzard of 1888 was a horrific incident that gives us a look at why being prepared for winter storms is essential. With proper preparation, you can keep yourself and your loved ones safe during winter weather.