Fire Damage Restoration Connecticut: How to Form a Fire Escape Evacuation Plan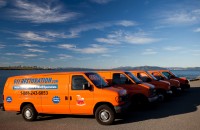 Unless you are the parents of Lyle and Erik Menendez, no household disaster is more terrifying than a fire. Homes catch fire for a number of reasons, and usually the homeowners are never prepared. In addition to having the contact information of a fire damage restoration Connecticut company ready in the event of an emergency, you should also have a carefully thought-out fire escape plan for your family to follow in case the unthinkable happens. Professional fire damage restoration services can be performed to rescue your home and restore it to new, but nothing can bring back a family member in the event they are lost in a fire. By formulating an escape plan you can greatly increase the chance of survival in a home fire. Be sure to share this article and pass it on to all your friends and family so they too can feel inspired to take this important home safety step!
The Basics: Smoke Alarms
According to the National Fire Protection Association (NFPA) the first thing you will need to ensure before formulating a fire plan is to make sure your smoke detectors and alarms are working. The association also says that smoke alarms should be placed in every sleeping room and outside the immediate sleeping area on every level of the house. According to the NFPA 72 National Fire Alarm Code, interconnected smoke alarms should run throughout the home so that when one sounds, they all go off. The top fire damage restoration Connecticut professionals advise getting a set of detectors that are connected to an emergency answering service so firefighters can be dispatched immediately!
Do a Walk Through
Gather everyone in the family and assign one person to hold a pad of paper and pen for note-taking purposes. Do a walkthrough of the home and note every possible fire escape from every room and hallway. Sometimes a fire can spread to a hall before the person has a chance to evacuate a bedroom. Make sure that every family member understands that the window is a fire escape when it is not safe to go through the door. If you live in a two-story home and if conditions allow it, tell the family member to first push the mattress out the window so they will have something soft to land on. If the window is too small, instruct them to cover their head with their arms and hands and jump while trying to go into a limp roll when making contact with the ground. The best fire damage restoration Connecticut companies advise parents of especially younger children to do this once every 3 months and quiz them afterwards so the information will sink in.
Pets and Meeting Place
Make sure that one family member is responsible for gathering the family pets and taking them outside to safety. This responsibility should not be left to a small child but instead a teenager or an adult.  You should also select a meeting place outside of the home and have an evacuation time of 60 seconds or less in which you have to meet family outdoors. It is best to meet far away enough from the home, as flames can spread quickly and sparks can fly. Meeting at the mailbox out by the road or across the street at a neighbor's house are two likely ideal places.
By following these tips you can help increase your family's survival rate in the event of a home fire. Stay safe!