Disaster Restoration Connecticut
911 Restoration Connecticut Branch owner Eli Elfasi is confident that the disaster restoration Connecticut team will respond promptly and efficiently to repair any type of disaster that has affected your home.
When dealing with a disaster, it can include a combination of water damage, mold infestation, sewage backup and fire and smoke damage.
This level of destruction requires professionals like the disaster restoration Connecticut team to be on the job.
They will respond immediately to all disaster emergencies, guaranteeing to be at your home within 45 minutes of receiving your initial call.
In order to be as available as possible to their customers, the water damage Connecticut offices are available 24/7/365, prepped and ready to get on the road as soon as possible.
They have over 35 years of experience in this home restoration industry, so homeowners can rest assured knowing they have come to exactly the right place to get their damage remediated.
Eli and the entire 911 Restoration operation are proud of our innovative cleanup techniques, and we are certain that the disaster restoration Connecticut agents can handle any disaster situation.
When you call the disaster restoration Connecticut techs, we want you to know that you are in capable hands.
We Want to Be Your Go-To Disaster Restoration Company
The disaster restoration Connecticut group is licensed, bonded and insured in order to prove to our customers that we will do everything we can to protect them.
Our disaster restoration Connecticut experts are fully equipped with the most state-of-art machinery to handle water, fire, smoke, mold  and any other type of disaster damage that struck the property.
The disaster restoration Connecticut members are well-trained in remediating every imaginable disaster circumstance, and in many instances water is involved.
We closely monitor the entire restoration process, from start to finish, to make sure everything is conducted with the utmost professionalism.
This damage can present itself in many forms, such as a flooded basement, a burst pipe, a leaking roof or a home appliance malfunction.
Just know that whatever the case may be, the disaster restoration Connecticut agents can tackle the job.
Our Disaster Restoration Crews Are Capable and Cost-Effective
The financial aspect of a disaster is always a concern for every homeowner. Although it can be overwhelming, it is important for the disaster restoration Connecticut service members will do everything they can to help alleviate these worries.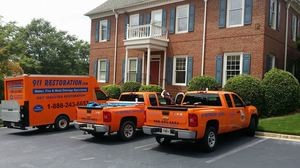 On top of offering already affordable prices, we will work with all major insurance companies, making sure to do all of the leg work along the way.
This includes assisting in filling out paperwork, communicating with insurance reps and answering any questions you may have.
The 911 Restoration Connecticut specialists are honored to be able to help walk you through these unfortunate circumstances.
Eli wants to lend the disaster restoration expertise of 911 Restoration Connecticut to everyone in the community.   We aim to help as many people as we can, restoring both their homes and their lives.
The following two tabs change content below.